DECEMBER 9, 2020 – FEBRUARY 20, 2021
---
Emerson Gallery & Online: Vertical Interval: New Works by Joseph Cortina
Drawing on his background as a painter and his long career creating films and interactive experiences for museums, McLean-based artist Joseph Cortina's  works are a response to the fleeting, elusive quality of time-based media. His paintings, which can be seen as singular frames in an on-going dialog, revel in their own materiality. Wholeheartedly embracing depth of color, texture, and line, Cortina is drawn back to painting for its immediate, direct, and therapeutic significance.
Click here to watch the Vertical Interval exhibition overview video.
Atrium Gallery & Online:Beginningless Endless: Works by Shanthi Chandrasekar
Intensely curious by nature, Shanthi Chandrasekar creates work that explores the big questions of science and the natural world. Employing the mediums of drawing, painting and sculpture, and tapping into her training in physics and psychology, Chandrasekar has created a vehicle for both her observational questioning and the wild journeys of her imagination. With astounding precision and skill, these works depict a perfect balance between our inner and outer worlds.
Click here to watch the Beginningless Endless exhibition overview video.
SEPTEMBER 17 – NOVEMBER 14, 2020
---
Emerson Gallery & Online: Sculpture NOW 2020
Presented by The Washington Sculptors Group and McLean Project for the Arts
What a wonderful collection of strong, inventive and well- crafted work. The submissions covered a broad spectrum of approaches, from conceptually oriented, more focused on formal concerns, and often a dynamic balance of the two. These sculptures all represented a high level of creativity in both material construction and ideas. My task was to choose the works that live most completely in the world, the ones that walk the line between communicating the intentions of the artist with both clarity and mystery, while at the same time leaving open a space for personal viewer response and interpretation. As the juror and a viewer with some experience, I chose for inclusion the pieces that worked best for me in this way, the ones that most clearly asserted both their presence and their purpose and did so with the appropriate amount of skill. In addition, I sought to honor the diversity of the submissions by choosing works that represented a myriad of styles, approaches and subject matter. I think the resulting exhibition is both wildly eclectic and deeply optimistic, a testament to the acts of creating and communicating as essential aspects of the human spirit. 
Nancy Sausser, Sculpture NOW Juror
JULY 15, 2020  – SEPTEMBER 15, 2020
---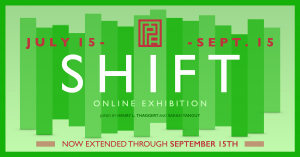 Online: SHIFT
How has your world been affected by this "SHIFT" in our lives?
MPA's first online juried exhibition, SHIFT, featured works focusing on the concept of shift, change or exchange in paradigm, position, direction, tendency, viewpoint, atmosphere, needs, dreams, schedules, interactions, environment, perspective…
SHIFT was juried by Juried by Henry L. Thaggert and Sarah Tanguy.
DECEMBER 5, 2019  – FEBRUARY 29, 2020
---
Emerson Gallery: Eve Stockton: Origin Stories 
Known for large-scale woodcut prints, Stockton's works are inspired by a close observation of nature and an eclectic interest in science. Combining her prints and stone sculpture, she works to create an atmosphere that can subtly envelop the viewer.
Atrium Gallery: Replay and Reshuffle: Paintings by Kyujin Lee
Combining the spontaneity of surrealist automatism with refined illustrative skill, Kyujin Lee draws on the world of fairy tale to compose paintings exploring dreams, identity and personal transformation.
SEPTEMBER 19  – NOVEMBER 16, 2019
---
Emerson Gallery: Strictly Painting 12 An Fharraige Fheargach: The Fiery Sea
Works by Meghan Walsh
Meghan's organically shaped stone and mixed media mosaic sculptures appear to twist and turn, as if trying to slide right off the wall. These hand formed objects are made in partnership with the stone, capturing and encapsulating a sense of past experience, like glaciers or frozen time capsules. Walsh describes the works, which strongly reference landscape, as "primordial connectors or archives of wisdom." They speak of our quickly changing world, tapping into a deep historical perspective as they point out the dignity and beauty found in the communion of unexpected objects.
Atrium Gallery: Some Pieces of the Nature of Things: Drawings by Miriam Mörsel Nathan
Miriam Mörsel Nathan will exhibit drawings on paper that combine fragmented landscape references, abstract marks and field, and sensitive, meandering line work. Drawing on her background as a poet, the calligraphic and fluid musicality of the written word is sometimes included in the composition as well.
MPA@ChainBridge: Strictly Painting 12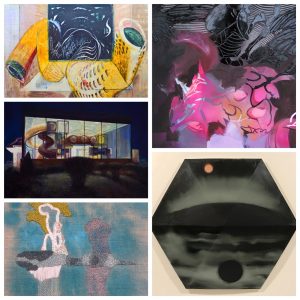 Currently in its twelfth iteration, Strictly Painting is one of the region's most important painting exhibitions, celebrating the depth and breadth of painters working throughout the mid-Atlantic. The Strictly Painting 12 juror was Adah Rose Bitterbaum, owner and director of the Adah Rose Gallery in Kensington, Maryland.
MPA@ChainBridge: Taking Territory: New Works by Susan Goldman, Barbara Kerne, Eve Stockton and Patricia Underwood
These four DC-area printmaking artists came together in Taking Territory to show works that mine many of the myriad techniques available to artists working in printmaking today. Using the media as a way into personal expression and conceptual concerns, each also draws on their vast knowledge and experience, as artists and as human beings, stretching boundaries and entering new personal territory.
JANUARY  10 – MARCH 2, 2019
---
MPA@ChainBridge: Intention/Invention: Works by Delna Dastur and Maryanne Pollock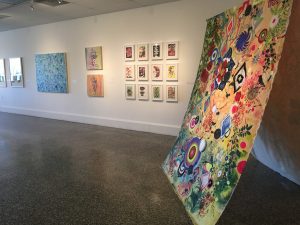 Intention/Invention featured work by two abstract painters, Delna Dastur and Maryanne Pollock. Both artists make works created through a delicate and magical blend of intentional, planned process and improvisational experimentation. Maryanne Pollock's exuberant works combine painting and printmaking techniques to create abstractions with calligraphic marking and patterning influenced by time living and working in Egypt. Delna Dastur, also an abstractionist, uses architecturally inspired compositional structure to make intricately layered lyrical paintings that display atmospheric experimentation based on both honed skill and intuition.
NOVEMBER  15 – DECEMBER 22, 2018
---
MPA@ChainBridge: From Here to Elsewhere: Kindled by Things
Curated by MPA's Exhibitions Director Nancy Sausser, From Here to Elsewhere: Kindled by Things featured artists who are inspired to use materials, both ordinary and unusual, in new and unorthodox ways. Bringing together found materials, building on and adding to what is already there, and placing objects in new contexts are a few of the ways working employed by each of these artists. As a result, the viewer is encouraged to see differently and to follow the creative impulse of the artist into unexpected territory.
Featured artists include:
Suzi Fox
Maria Karametou
Ruth Lozner
Betsy Packard
Evan Reed
SEPTEMBER  13 – NOVEMBER 3, 2018
---
MPA@ChainBridge: Encounters: Works by Mia Halton
Baltimore artist Mia Halton uses humor and metaphor to visually describe the joys, challenges and vagaries of being a human being in this world. Drawing on both paper and clay, she captures quickly and with a sense of expressive urgency the interrelationships between us as well as the inner conversations that go on inside us.
This exhibition, arranged as an installation, included works created during a recent residency in Puebla, Mexico. The works represent an exploration of her challenges and experiences living and making work in this new, inspiring environment.
JUNE 14 – AUGUST 18, 2018
---
MPA@ChainBridge: Too Much of Too Much: Overstimulated, Overexposed and Overextended
Juried by Independent Curator Laura Roulet, this exhibit featured works by Mid-Atlantic artists whose works explore the ideas of overstimulation, excessiveness and bombardment, be it through too much information, activity, expectation, or by any other means.
MPA@ChainBridge: Erratic Landscapes: New Works by Artemis Herber
Using recycled cardboard—the material used for packing and shipping that is so omnipresent in our consumer society—German-born and Baltimore-based artist Artemis Herber creates intense collaged paintings that explore the complicated interconnections between human beings and the land. In her deep and wide-ranging research, Herber gathers ideas from multiple fields, including philosophy, archeology, economics and architecture.
Of critical interest to Herber is an investigation of deep time and human impact through the lens of the Anthropocene, which refers to the relatively short period beginning when human activities first started to affect the earth's ecosystem.
Working with a three-point framework that includes land use, time and global positioning, Herber's large-scale land and cityscapes employ expressive and energetic drawing and painting techniques and a self-invented torn and cut collage process including both construction and disintegration.
JAN 11 – MAR 3, 2018
---
MPA@ChainBridge: Methods of Inquiry: Fields of Discovery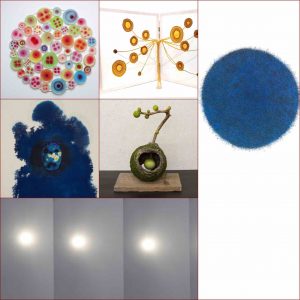 Methods of Inquiry: Fields of Discovery featured six artists whose work is influenced by science. Both the methods of discovery and images and concepts related to fields such as chemistry, microbiology, neuroscience, physics and genetics are referenced. Commonalities that exist between science and art are embraced as both process and outcome in the works included in this exhibition. Exhibited together, the works of these six artists offer views from multiple angles of the wonder found in the natural world, both inner and outer, and the processes human beings employ in order to gain a greater understanding of them. Participating artists included Leslie Holt, Susan Main, Michele Banks, Spencer Dormitzer, Marc Roberge, and Atsuko Chirikjian. 
NOV 9, 2017 – DEC 23, 2017
---
MPA@ChainBridge: Nature as Prototype
Nature as Prototype aims to examine the role of nature and biology as a source of inspiration for art and design. The artists included in this exhibition—Adam Nelson, Yoko K., and Grethe Wittrock—will collaborate to create an immersive environment that explores the changing nature of our relationship to the natural world. Additionally, Sarah Beth Oppenheim will choreograph a site-specific dance that she will perform in the space toward the closing date of the exhibition. Continuing the conversation about how we choose to co-exist in what is described today as the Anthropocene, the exhibition will examine how art and design are fundamentally linked to scientific, biological, mathematical, philosophical, and social investigations.
SEPT 7, 2017 – NOV 4, 2017
---
MPA@ChainBridge: Discordant Voices: Paintings by Madalyn Marcus
Washington artist Madalyn Marcus will exhibit evocative large-scale paintings meant to be experienced holistically. Influenced by both textiles and jazz, these paintings create around themselves a field of active energy as color interaction and mark improvisation blend and riff off each other.
JUNE 15, 2017 – AUG 12, 2017
---
MPA@ChainBridge: Strictly Painting 11
This juried biennial exhibition presents the work of artists from throughout the Mid-Atlantic region exploring the medium of painting.
Juror: Anne Reeve, Assistant Curator at Glenstone, a private museum near Washington, DC devoted to modern and contemporary art.
APR 13, 2017 – JUNE 3, 2017
---
MPA@ChainBridge: With the Grain: Paintings by J.T. Kirkland
This exhibition features multipart and shaped paintings on wood. Focusing on line, color, form and structure, J.T. Kirkland combines wood and paint into uniquely warm and abstract paintings in the minimalist vein.  Using grain of the wood as both guide and essential component, Kirkland incorporates and contrasts the organic nature of the material with the crisp intentionality of hard-edged blocks of color.
MAR 15, 2017 – APR 2, 2017
---
MPA@ChainBridge: Youth Art Show
MPA hosted two Youth Art Shows celebrating works by Fairfax County Public School elementary, middle and high school art students from both the Langley and McLean pyramids.
FEB 2, 2017 – MAR 4, 2017
---
MPA@ChainBridge: Sculpture Now 2017 — Washington Sculptors Group (WSG) Juried Exhibition
WSG and MPA collaborated on a Sculpture Now show for 2017. The exhibition was open to members of the Washington Sculptors Group. Sculpture Now 2017 was a non-thematic exhibition of new works, finished within the last two years.
To learn more about the Washington Sculptors Group, click here.
JAN 12, 2017 – MAR 4, 2017
---
MPA@MCC Emerson Gallery: Construction Work: New Sculpture by Mary Walker
Baltimore artist Mary Walker exhibited wall-hung constructions that combined imagery and concepts from natural science, mechanics and the landscape. Found objects such as cable, screws, nuts and bolts are combined with painting, referring to the processes of building and constructing. An interest in the dualities of gesture and geometry, the man-made and the natural and chance and intention is also a key concept.
JAN 12, 2017 – MAR 4, 2017
---
MPA@MCC Atrium Gallery — Alice Kresse: Some Assembly Desired: The Printmaker as Jeweler
Kresse highlights the similar sensibilities inherent in her monoprints and handmade jewelry in an exhibition that featured both approaches. Kresse brings her long career in graphic design to bear on her work in printmaking, creating images that are poetic, carefully balanced and multilayered. The monoprint process allows her to construct a piece much as you would an object, building layer upon layer with image and atmosphere emerging from the space beyond.
JAN 12, 2017 – MAR 4, 2017
---
MPA@MCC: Power Poles: Sculpture by Alonzo Davis
Deeply influenced by his international travel experiences, Alonzo Davis makes freestanding, wall oriented and suspended sculpture. The imagery and energies of the American Southwest, Brazil, Haiti, West Africa and the Pacific Rim are all present in these works, combing bamboo, wood, paper, paint and LED lights.
DEC 8, 2016 – JAN 21, 2017
---
MPA@ChainBridge: Moving Through: Works by David A. Douglas
Working at the intersection of drawing, painting and photography, David A. Douglas creates large-scale works that explore the power of place. Depicting personally significant landscapes on a monumental scale, Douglas offers the viewer the opportunity to enter the works on their own terms and experience the highly charged potency that lies within the ordinary moment. Amplifying the inner beauty within the ordinary, Douglas' works resonate with the intense simplicity of a poem, simply stated yet somehow glowing with life from the inside out.
A native of Northern Virginia, Douglas has works in numerous public, private and corporate collections, including the Virginia Museum of Fine Arts, the Chrysler Museum, and the Academy Art Museum. His work has been shown in various solo and group exhibitions, including exhibits with Chuck Close, Robert Mapplethorpe, Diane Arbus, and Sally Mann. Douglas received a Bachelor of Arts degree from Virginia Intermont College and a Master of Fine Arts degree in paining from James Madison University. He teaches painting, drawing and photography at the Episcopal High School in Alexandria, Virginia. Read more about the artist.
NOV 17 – DEC 23, 2016
---
Emerson Gallery: Abundance: Works by Mei Mei Chang, Amy Boone McCreesh, Leslie Shellow, and Jungmin Park
This curated exhibition features four artists whose inclusive approaches combine ideas and materials in a swirling, exuberant, "more is more" manner to create works that unabashedly claim and own their space. Using both traditional and scavenged components, these works flourish both on and off the wall as they move into and through space with an elegant, imaginative, experimental and experiential energy.
Atrium Gallery: Above the Horizon: Works by Nikki Brugnoli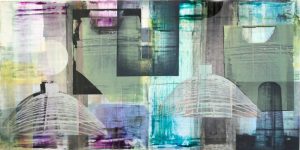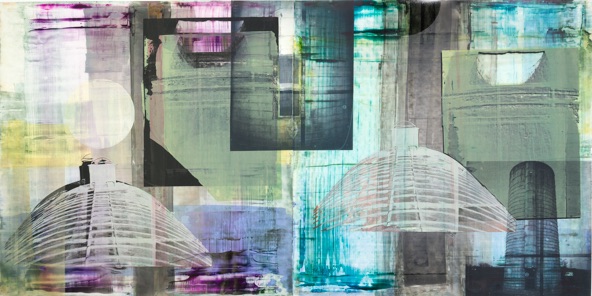 These abstracted and expressionistic drawings and prints center on a post- industrial, post agricultural landscape as they explore memory and experience, vastness and the precision of proximity. Light, abstraction, transparency and glowing color come together to create works that offer a meditation on safety, separation and the deep familiarity of place. Called to return again and again to the image of an abandoned silo, Brugnoli creates an impactful visual symbol imbued with a longing for the past, the comfort of the present, and the endless adventure of imagination.
Ramp Gallery: In Process: Photographs by Ajay Malghan
The large- scale, evocative, and innovative photographs on display by Baltimore artist Ajay Malghan incorporate time as a formative element. Inventive in both conception and process, the works gather light, form and space into both calm and energetic compositions that transport the viewer into the atmosphere of elsewhere. Color glows and radiates, proposing mood and eliciting response, creating a new and intriguing landscape in which to experience and enter the day.
NOV 22 – DEC 23, 2015
---
The Same but Different: Creative Morphology 
This curated exhibition features works by artists who make use of the processes of observing, sorting and classifying as a prelude to creating shape, structure and color. The exhibit will highlight the inherent conceptual and procedural similarities between scientific and artistic pro- cesses. Works by Susan Eder, Laurel Lukaszewski, Richard Dana and Tom Green are included.
McLean Art Society Juried Exhibition 
Ramp Gallery
Works by members of the McLean Art Society in a variety of styles and media will be exhibited.   This year's exhibition is juried by nationally-known watercolor artist Chris Krupinski. The McLean  Art Society, established more than 50 years ago, supports and encourages regional artists and art education.
Wanderer: The Travel Journals, Works by Maria Karametou 
Atrium Gallery
These mixed media works are based on visual observations the artist has collected while wandering in different parts of the world. Karamatou has saved these visual glimpses as a way of synthesizing and interpreting her experiences, encasing them in small plastic sleeves, like an archival photographic display. Hung together they present an open-ended story with both personal and universal impact.
JAN 8 – MAR 7, 2015
---
Manifesting Phenomena: Drop, Hover, See-through, Lean…
Emerson Gallery
This curated exhibit will include work by three artists who are interested in investigating the many and most basic concepts of physical science. Ranging from sculpture that inhabits physical space in unusual ways in order to better understand and demonstrate force, motion, energy and matter, to works depicting the patterns of the earth and its cycles of change, the artists in this exhibit explore natural phenomena in ways both literal and conceptual. Included are Joan Belmar, Annie Farrar and Barbara Josephs Liotta.
Out For a Spin: Mixed Media Paintings by Jean Sausele-Knodt
Atrium Gallery
Beginning with loose references to flora and fauna, Sausele-Knodt creates shaped paintings that deftly move the viewer through a series of shifting and fragmented picture planes. Animated images and energetic color conversations come together to form constructions that depict a fresh personalized sense of time and place.
Contemporary Scrolls: Works by Laura Litten

Ramp Gallery
Laura Litten will exhibit long, scroll-like drawings in the Ramp Gallery. These are expanded, fabricated landscapes that impart to the viewer a sense of vast space coupled with lovingly rendered participants in the natural world
JUN 13 – AUG 3, 2013
---
Strictly Painting 9 / Juried Margaret Heiner
JUN 14 – JUL 28, 2012
---
Something and Nothing: Activating the Void / Juried by J.W. Mahoney