September 14, 2023 – November 11, 2023
---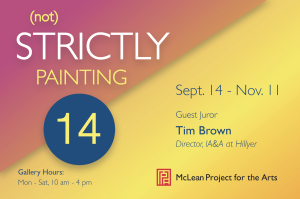 (Not) Strictly Painting 14 (Emerson & Atrium Galleries)
(Not) Strictly Painting is a juried biennial exhibition celebrating the depth and breadth of paintings–or works related in some way to painting–from artists throughout the mid-Atlantic area. Now in its 14th iteration, Strictly Painting is one of the region's most important painting exhibitions. (Not) Strictly Painting was juried by Tim Brown, Director of IA&A at Hillyer.
April 13, 2023 – June 10, 2023
---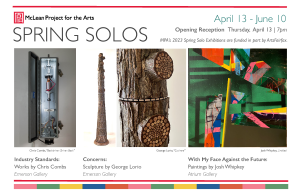 Industry Standards: Works by Chris Combs (Emerson Gallery)
Concerns: Sculpture by George Lorio (Emerson Gallery)
With My Face Against the Future: Paintings by Josh Whipkey (Emerson Gallery)

Concerns: Sculpture by George Lorio
In George Lorio's sculptures, tree-like forms are presented as metaphorical references to the possibility of healing and regeneration. Built from a combination of plywood armatures and found bark and twigs, the works exemplify a partnership between human effort and the natural world. Exuding a calm beauty, and both complexity and simplicity, these sculptures inspire a meditation on the necessity of valuing our environment.
Industry Standards: Works by Chris Combs
Chris Combs' sculptures are made from reclaimed or surplus industrial components. Pulled together to both perform a task (of the artists' making) and draw the viewer in aesthetically and technically, the pieces seem almost familiar and yet strangely new. While addressing themes of technology, surveillance and the destruction of the environment, Combs creates sculptures which are at once ominous and distinctly playful.
With My Face Against the Future: Paintings by Josh Whipkey
Josh Whipkey's paintings explore anxiety from physical, experiential, and philosophical perspectives. His smaller abstractions are full of high frequency color and dynamic geometric lines and shapes. Energy is built both within the edges of each individual painting and in each painting's relationship to another. The exhibit features both smaller works that are more compressed compositions to recent paintings that are larger, more spacious and leave room for thoughtful philosophical contemplation upon the nature of reality itself.
December 9, 2022 – February 18, 2023
---
View the Virtual Artist Talk Recording [/mk_button]
September 16 – November 10, 2022
---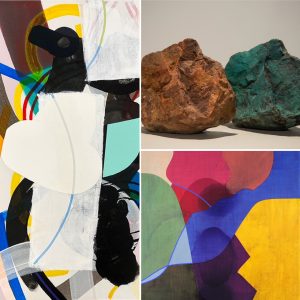 Continuum: Artists Teaching Artists
Continuum: Artists Teaching Artists was an invitational exhibition highlighting works by artists who give significant time to teaching, mentoring, and community-building, while continuing to sustain and develop strong and innovative personal bodies of work. Continuum included works from Artist/Educators from most of the area colleges and universities, including George Mason, George Washington, Georgetown, Northern Virginia Community College, University of Maryland, and Maryland Institute College of Art. Also represented were teaching institutes such as the Washington Glass School.
June 23 – August 20, 2022
---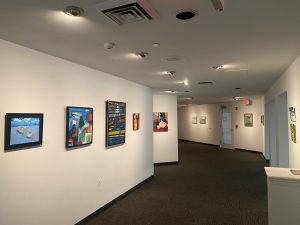 Atrium Gallery: MPA ClassWorks Exhibition, featuring art produced by participants in the MPA Studio Education Program
April 14 – June 11, 2022
---
Emerson Gallery & Online: Collide of Scope: Paintings by James Stephen Terrell
Springing from a wide array of influences, including quilt design, stained glass techniques and Joseph Albers' color blocking, James Stephen Terrell's dynamic and colorful paintings project energy and life. Moving between abstraction and realism, electric color interactions and geometric patterning, Terrell's aim is to contemplate and document our humanity in these singularly turbulent times.
Emerson Gallery & Online: Where Do We Go From Here: New Paintings by Matt Pinney
This recent body of work depicts the artist's progression and growth throughout the COVID-19 pandemic. Beginning with large, evocative paintings about isolation and escape, Matt Pinney moves to smaller, faster works as a way of "reaching deeper to find a more lasting connection to my place in the world and the experiences that transcend the pandemic".
Atrium Gallery & Online: Lightboxes by Melanie Kehoss
Melanie Kehoss creates astoundingly detailed lightboxes that tap into historical narratives to explore the origins of cultural phenomena. Specifically, the works in this exhibit depict snapshots from activities that began as work and evolved into recreation. Illuminated and each encompassing their own discrete environment, these intricately composed worlds draw the viewer deep inside, offering a chance to experience the past in a new light. Read The Washington Post Review of Lightboxes.