MPA & COVID-19 Crisis
During this crisis, we know that community is more important now than ever. We need to think local, act local, and give local. And McLean Project for the Arts needs you to help us continue to provide exhibition experiences, instructional arts programming, and hands-on learning and enrichment opportunities to some of our most vulnerable community members. We won't let COVID-19 extinguish the arts!
Suggested Donation Amounts:
$35 Artist, Student, Senior
$50 Individual
$100 Family
$250 Contributing Member
$500 Sustaining Member
$1,000 Sponsor
By mail – You can also send a check to:
McLean Project for the Arts
1234 Ingleside Avenue, McLean, VA 22101
McLean Project for the Arts is a non-profit 501(c)3 charitable organization, with the tax identification number of EIN #52-1374407. Your donation is considered a charitable contribution under the U.S. Tax Laws. Consult your tax advisor to determine the extent of the applicable tax deduction.
Questions? Email rripps@mpaart.org.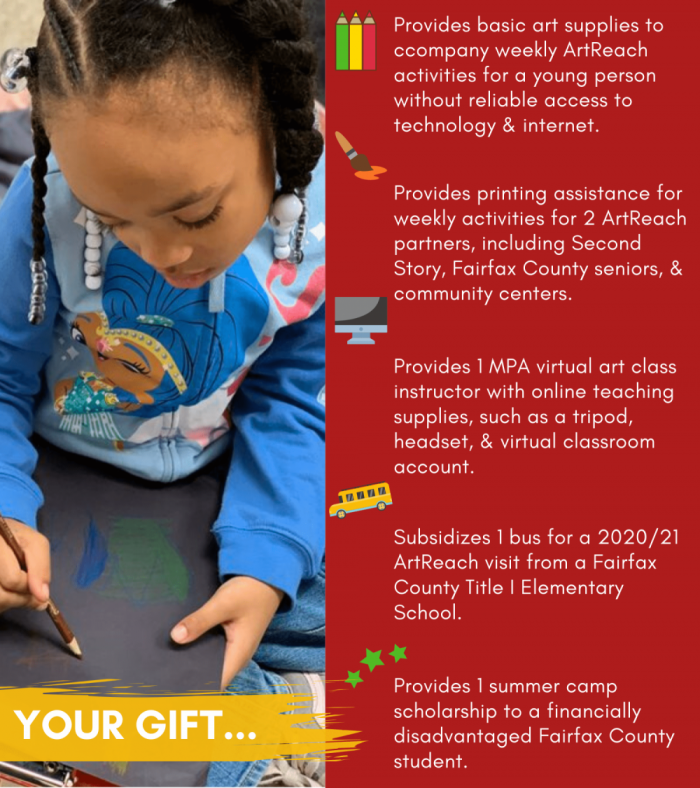 OTHER WAYS TO GIVE
This is a unique year for giving and there are many ways to show your support of MPA. Consider gifts of securities, donor advised funds, bequests, and charitable lead and remainder trusts.
Donate Monthly
Make a monthly gift at any level. Your recurring monthly donation provides a reliable source of funding for all of MPA's year-round programs.
Donor Advised Funds
A donor advised fund, which is like a charitable savings account, gives an individual the flexibility to recommend how much and how often money is granted to a non profit. Check with your financial advisor to request a grant or recurring grants for MPA.
Gift of Stock
MPA is happy to work with you on making gifts of publicly traded securities that have appreciated in value.
Please contact MPA for more information about making a gift of securities, and to ensure your account is properly credited.
Employer Matching
Many employers will match your charitable contribution with an equal or higher amount if you or your spouse are an employee, retiree, or board member of a company. Check with your company to see if they have a matching gifts program and to request a matching gift form. Email or mail the completed and signed form with your gift to MPA.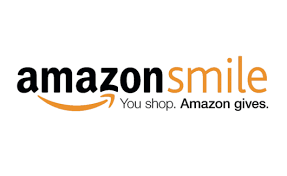 AmazonSmile is a program that donates 0.5% of your eligible purchases to MPA when you select us as your charity.
If you're looking for a simple, automatic way to continue supporting MPA, you should start your Amazon shopping at smile.amazon.com. You shop as you normally would on the site, at no extra cost to you, and you don't need to make a separate account.
Donations apply only for purchases made at smile.amazon.com. Click here to learn how to use AmazonSmile.