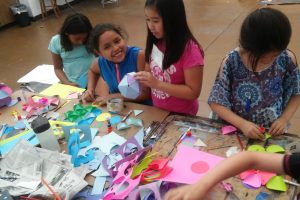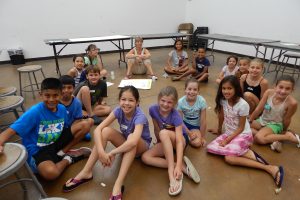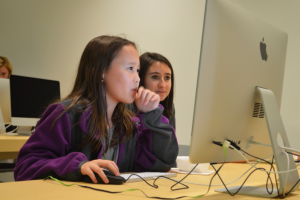 Registration for 2018 Summer Camps opens February 5th for MCC residents and February 12th for non-residents!

All Summer Camps will be held at MPA! (1446 Chain Bridge Road, McLean, VA 22101. Located in the McLean Shopping Center by Giant and CVS).
MPA Summer Art Camp 2018
Art+Storytelling
Ages 7-13
Full-day week-long sessions
9:00 am – 4:00 pm
Campers of all artistic experience are welcome! Does your child love hearing a story? Do you see them imagining and living out their favorite story characters? This summer, MPA is offering art camps integrating classic elements of art with dramatic themes rooted in multicultural literary myths. Draw, print, collage, paint and construct your way through ancient and modern-day legends and myths from across the world, including Greek, Chinese, European and American traditions. Artmaking will emphasize the drama of each story through elements of art, color and line shape using a wide variety of mediums including drawing, painting and 3-D construction. Live readings, improv sessions and other theatrical activities will prompt campers to discover and interpret these stories.
This art camp will encourage the integration of art and drama by following a multi-faceted theme throughout the week, incorporating a tactile exploration of literature, culture, drama, and of course, art. While connecting art and drama, your camper will:
Revel in the mythologies of ancient Greek culture through the story of Daedalus and Icarus.
Explore the range of medieval literature from Robin Hood to Shakespeare.
Discover ancient Chinese culture and the role of heroes and heroines through "The Ballad of Hua Mulan," the ancient legend that inspired the Disney movie "Mulan."
Experience classic America authors such as Mark Twain and Laura Ingalls Wilder.
Week-long sessions will culminate in creative art projects bringing to life these myths and legends.
Campers must bring each day:
Lunch, 

2 snacks

, water bottle
Any medications
Please fill out the emergency contact, medical and release form, and bring on the first day of camp (forms are also available at MPA's front desk and at the McLean Community Center):
Click Here: MPA Summer Camp Form PDF
Art Instructors: Sharon Fishel, Arthur Kwon Lee, and Diana Gibson
Schedule:
5 sessions @ 7 hrs.
$425/395 MCC district residents.
Please click on your preferred week to register!
Week 1: June 18 – 22 (6201.118)
Week 2: June 25 – 29 (6202.118)
Week 3: No camp the during the week of July 4th
Week 4: July 9 – 13 (6203.118)
Week 5: July 16 – 20 (6204.118)
Week 6: July 23 – 27 (6205.118)
Week 7: July 30 – August 3 (6206.118)
Week 8: August 6 – 10 (6207.118)
Teen Art Camps!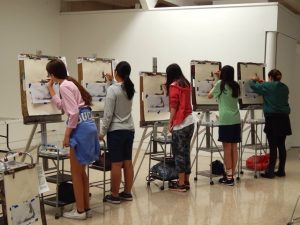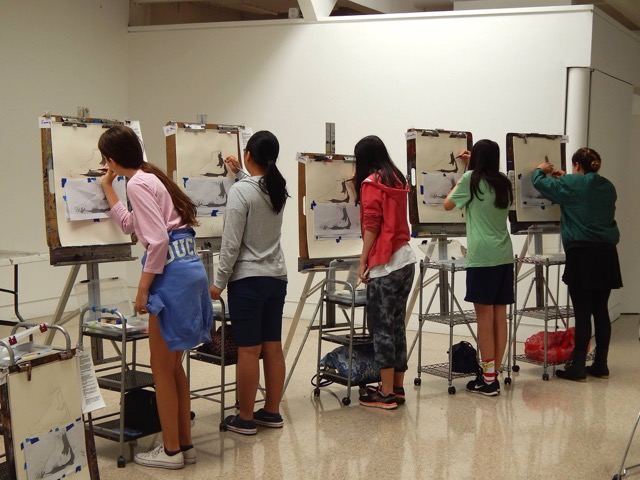 For Teens Ages 13-18:
Vosler Young Artists' Studio @ MPA
M-F, August 13 – 17, 2018
9:30 am– 4:00 pm
Full day, week-long session
Held all day at MPA
For any young artist with the desire to learn classical drawing. No previous experience is necessary.
Join us as we welcome back Kerry Vosler and her highly regarded atelier studio for the third year in a row!  This workshop will introduce the young artist to a classical atelier program of instruction.  Students will learn to draw through direct observation led by master instructor, Kerry Vosler.
Students will draw a variety of pictures in charcoal throughout the week including copy work from the late 19th century, Bargue-Gerome Drawing Course, culminating in a session with a live model on Friday afternoon. The Bargue drawings this year will include different content on the human skull and muscles of the face and neck. Students will have at least two finished portfolio drawings by the end of the week, and parents and families are encouraged to attend the closing certificate ceremony on Friday. During lunch, guest artists will be invited to speak to the students. Stay tuned for all details.
Read about the summer 2016 workshop in the August 18, 2016 Sun Gazette (Front page, continued on pg. 3)
5 lessons @ 6.5 hrs, $460/$435 MCC District Residents
Age 13-18
Register: 6209.118         M-F, 8/13-8/17                        9:30 am – 4:00 pm

Monotype Print Making for Teens @ MPA
For ages 13-18
M-Th, August 20-23
4:30-7:30 p.m.
Explore the exciting world of monotypes using a variety of techniques that include color blending, layering of images, inventive textural treatments and more as you create a beautiful series of prints. We will work from a variety of sources for subject matter including still life, landscape and abstract motifs and patterns. We will also look at various artists' prints including Impressionist, Modernist and contemporary art sources for inspiration.
4 sessions @ 3hrs, $195/$180 MCC district residents
Register: 6210.118                          M-Th, 8/20-8/23                             4:30-7:30 p.m.