MPA Faculty Art Exhibition
June 24 – August 15, 2021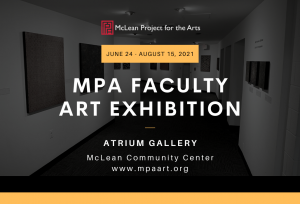 Mark your calendars and visit MPA's Atrium Gallery June 24 – August 15, 2021 for our Faculty Art Exhibition.
The show will feature works from a number of our faculty, including:
David Carlson
Naomi Chung
M. Jane Johnson
Rula Jones
Joyce Lee
Pamela Saunders
Kerry Vosler
Jordan Xu
Lubna Zahid
(Not) Strictly Painting
September 18 – November 13, 2021
MPA hopes you will join us September 18 – November 13 for (Not) Strictly Painting, a juried biennial exhibition celebrating the depth and breadth of paintings–or works related in some way to painting–from artists throughout the mid-Atlantic area. Now in its 13th iteration, Strictly Painting is one of the region's most important painting exhibitions. (Not) Strictly Painting will be juried by Foon Sham, Virginia-based artist and Professor of Art at the University of Maryland, College Park, and Virginia Treanor, Associate Curator at the National Museum of Women in the Arts.