Continuum: Artists Teaching Artists
September 16 – November 10, 2022
Opening Exhibition Reception September 22, 2022 from 7-9pm
MPA Emerson & Atrium Galleries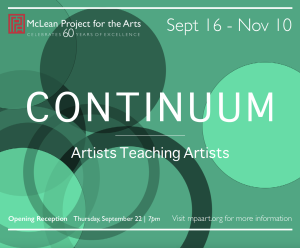 Continuum: Artists Teaching Artists is an invitational exhibition highlighting works by artists who give significant time to teaching, mentoring, and community-building, while continuing to sustain and develop strong and innovative personal bodies of work. Continuum includes works from Artist/Educators from most of the area colleges and universities, including George Mason, George Washington, Georgetown, Northern Virginia Community College, University of Maryland, and Maryland Institute College of Art. Also represented are some teaching institutes such as the Washington Glass School.
All of the participants are as dedicated to their on-going artistic practice as they are to their students, and vice versa.
Continuum featured artists include:
In the Round: Three-Dimensional Fiber Works
December 8, 2022 – February 18, 2023
Opening Exhibition Reception December 8, 2022 from 7-9 pm
MPA Emerson & Atrium Galleries
This curated exhibit will feature 4 – 8 artists who create sculptural works from different kinds of fiber materials, experimenting and inventing new techniques in the process.