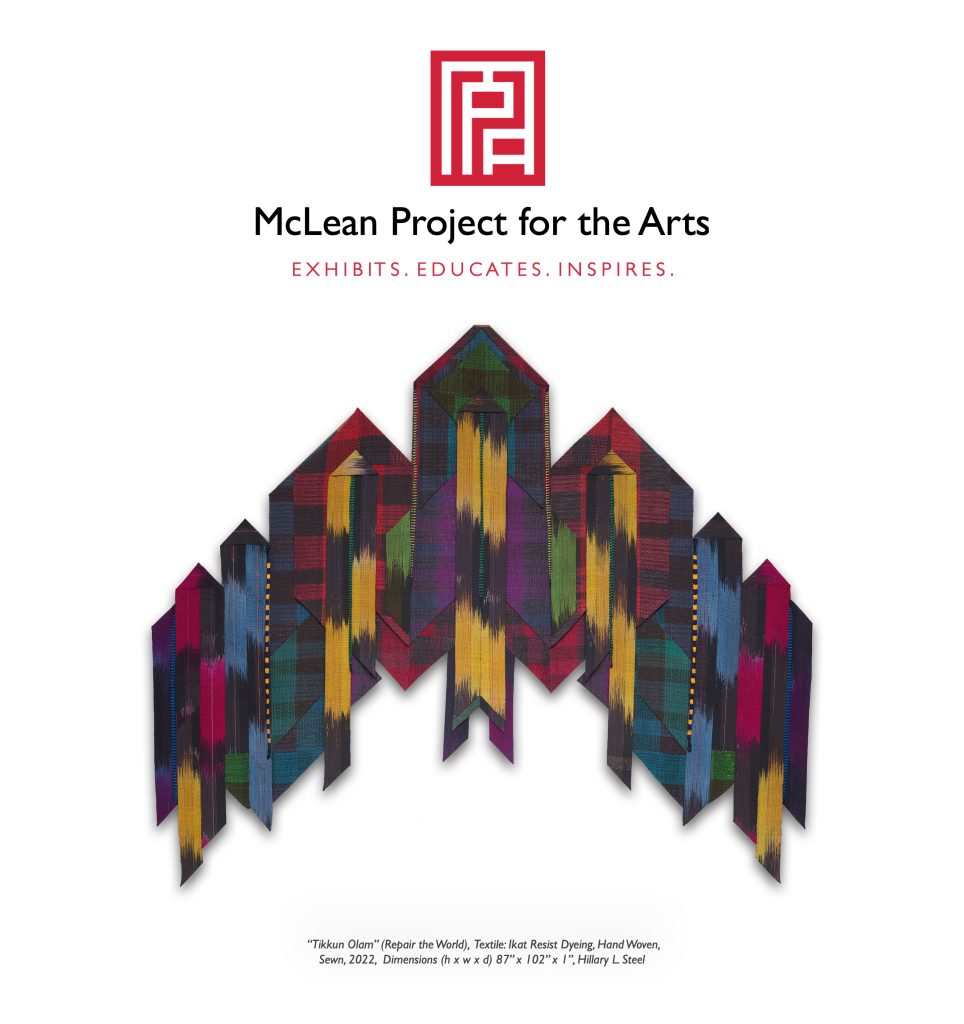 Moving Forward — 60 Years and Beyond
In 2022, McLean Project for the Arts—a leading contemporary visual arts nonprofit organization—marked 60 years of exhibiting, educating, and inspiring our community. We are stronger than ever, and looking ahead to the next chapter of our story. As we move forward, we invite you to join us as a Spring Benefit sponsor to help support our mission to continue adapting and connecting art and community, as we have since 1962.
2023 Signature Events
Spring Benefit | May 18, 2023
McLean Project for the Arts' signature fête, Spring Benefit raises critical funds supporting MPA's exhibitions and outreach. MPA relies on the funds raised at Spring Benefit to further its mission of connecting art and community.
17th Annual MPAartfest | Sunday, October 1, 2023
A one-day juried fine art show and sale, MPAartfest transforms McLean Central Park into a lively landscape of mini art galleries showcasing and offering for sale the work of acclaimed artists from the Mid-Atlantic region and beyond. Recognized by Sunshine Artist Magazine as one of the Top 100 Fine Art and Design Shows in the country, MPAartfest features the work of more than 35 visual artists, some of DC's most talented music performers, local food vendors, and a variety of children's activities to engage creative minds and captivate art-lovers of all ages.
NEW! Fall Jazz Art Experience | Fall 2023
In lieu of our previous Fall Soiree, we're planning something new this fall–a family jazz brunch, celebrating art and music, and spotlighting our Fall (Not) Strictly Painting exhibition with our community of supporters. Additional details forthcoming.
McLean Project for the Arts' signature spring fête, Spring Benefit, will take place on Thursday, May 18, 2023 at Wildersmoor House, a private residence in Great Falls, VA. MPA relies on the funds raised at Spring Benefit to further its mission of connecting art and community. Marsha Muawwad and Natalie von Seelen co-chair this year's event.
In addition to festive fare provided by Windows Catering, Spring Benefit 2023 will include music, a silent auction featuring high-value items, and more.
Sponsorship Opportunities
Building on our six decades of success, McLean Project for the Arts is poised for continued growth and expansion as we move into our next decade. We invite you to join us to increase our impact in our community and the greater DC area by supporting our upcoming Spring Benefit.
A wide variety of sponsorship levels are available–offering options for both individuals and corporate entities.
Donors may support MPA as sponsors of each event individually (Spring Benefit, MPAartfest, Fall Jazz Event), or may sponsor at the Influencer level and above to receive benefits for each of our signature events.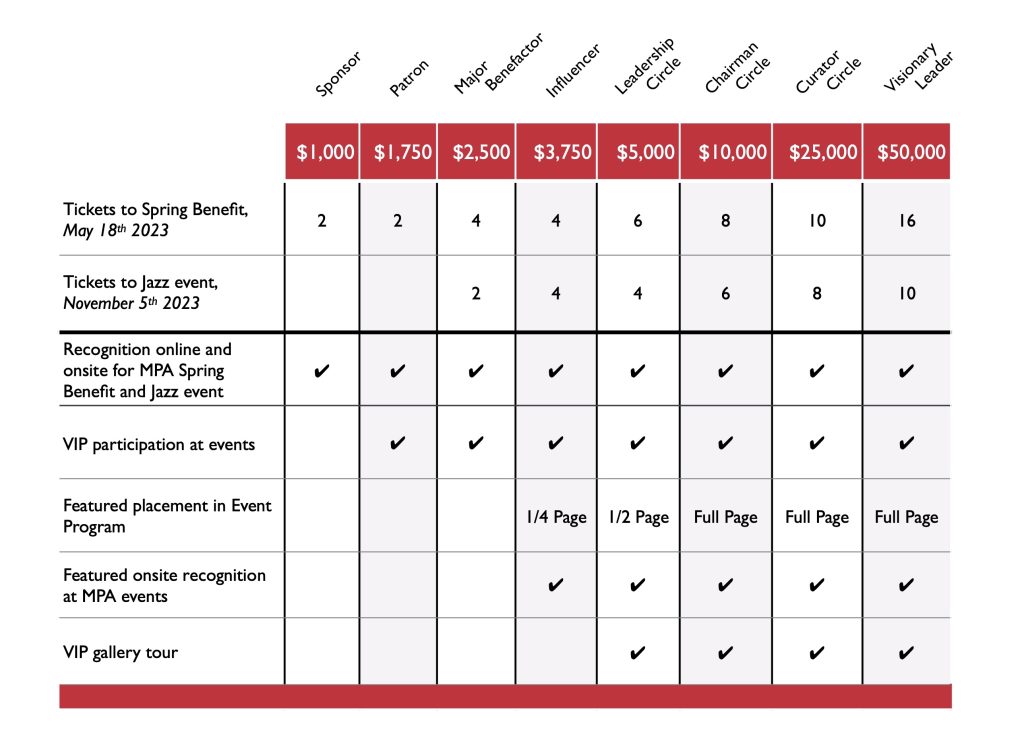 For additional sponsorship opportunities, please contact Jen Wormser at jwormser@mpaart.org or (239) 691-7548.
Please note: Sponsorship packages are intended to be purchased by one entity. At this time, we cannot accommodate splitting packages between individuals, companies, or families. MPA is a nonprofit organization and our events raise critical funds needed to support our mission-based programs.
For donors interested in giving from a Donor Advised Fund (DAF), please note that IRS regulations do not permit any benefits, including tickets, to be conferred in connection with DAF contributions. IRS regulations state that ticket costs, including both cost of goods/services and charitable amount, should be paid for from sources other than a DAF.
For donors interested in employer matching gifts, please contact MPA first to determine the tax-deductible amount.
If you are unable to attend or sponsor the event, you can still make a general tax-deductible donation in support of MPA and Spring Benefit.