MPA Spring 2021 Exhibitions
April 1 – June 10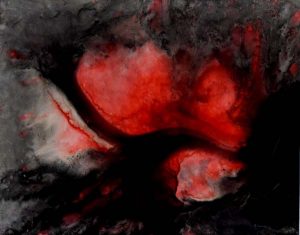 Emerson Gallery: Initium Novum: Humanity's End As A New Beginning
Featuring Artist Yuriko Yamaguchi and Writer Mineke Schipper
Organized around a concern about climate change and the future of our planet, Initium Novum: Humanity's End As A New Beginning is inspired by end-of-the-world mythologies from around the globe. Yamaguchi's expressionistic paintings alluding to these universal stories are paired with Schipper's writings, reached through QR codes on the wall. Also included are two site-specific installation works by Yamaguchi, making use of both physical materials, video, and light. Poetic in nature, the message is subtle and subliminal, the effect profoundly ephemeral and experiential, never didactic.
Atrium Gallery: Navigating Climate Change, Extended
Featuring work by Alonzo Davis
Building exuberant raft-like works from a variety of materials including bamboo, sailcloth, paper, twine, wax, paint, and light, Alonzo Davis alludes to many things, including both his childhood along the windy shores of Southern California and the stick charts of Micronesia he encountered during a lifetime of open-eyed, curiosity driven world travel. A love of patterns, bright color, and an embrace of low-tech construction techniques is central to the improvisational look and feel of these works. But a long career as a gallerist, educator, and artist also brings a practiced and sure hand and deft feel for the structural, compositional, and interactive bedrock upon which each piece is founded. These works are unique, dynamic, and immediately relevant.
Exhibitions underwritten by Donna and Bruce Berlage.
Gallery Hours:
Thursdays 11am-2pm
Saturdays 10am-3pm