Atrium Gallery
The Show Must Go On, presented by the McLean Art Society
Juror: Jessica Mickey, Arlington artist and former co-director of Gallery Underground in Arlington
Join MPA and the McLean Art Society for The Show Must Go On. The exhibit will feature pieces by 20 members of the McLean Art Society working in a variety of media. The Show Must Go On was juried by Jessica Mickey, Arlington artist and former co-director of Gallery Underground Arlington. Jessica is an Arlington Artists Alliance member and has shown her work at dozens of venues, one of which she also curates for other local artists.
The Show Must Go On will be on display in MPA's Atrium Gallery, which is open during MCC operating hours.
The McLean Art Society (MAS) is a group of local artists and art supporters who have been active in the community since 1955.  MAS sponsors lectures and art demonstrations by professional artists.  These activities are open to the public, as are exhibitions of members' work displayed in neighborhood locations.  Some MAS members are art teachers who regularly offer classes.  For further information about MAS and its members, see www.mcleanartsociety.org.
(Pictured, from top: Judith Landry, "The Tourists"; Ray Goodrow, "Girls Are Dancing")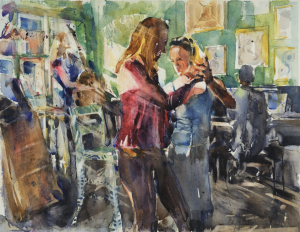 How to Visit the MPA Galleries
The current exhibition in the Atrium Gallery, "The Show Must Go On," is available for viewing during MCC hours. Please consider postponing your visit to the galleries if you have traveled by public transportation over the holidays or gathered with others outside of your household within the past 14 days.
Please review our MPA COVID-19 Policies before registering:
Only 6 visitors will be allowed in the gallery at a time.
Visitors must adhere to social distance guidelines and remain at least 6 feet from other visitors not in their immediate party.
All visitors must wear a mask at all times anywhere in the building and the gallery. Masks must cover the nose and mouth.
All visitors will have their temperatures checked before entering the gallery
All visitors must affirm that they have not been exposed to nor displayed symptoms of COVID-19 as described by the CDC in the two weeks prior to their visit.
Please do not come if you are feeling unwell for any reason. You can email info@mpaart.org with any questions or concerns.