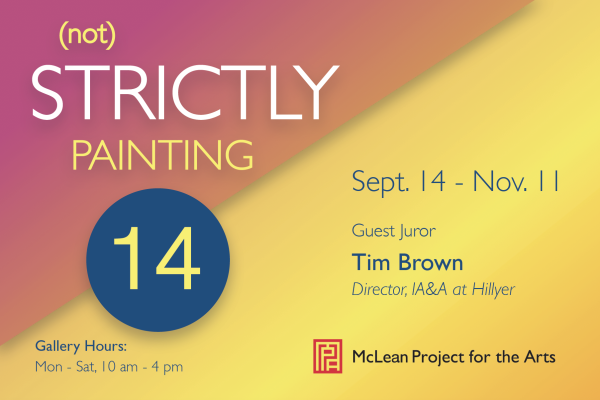 (Not) Strictly Painting 14
September 14 – November 11, 2023
In-Person Artist Talk: Thursday, October 19, 2023 from 7-9pm

(Not) Strictly Painting is a juried biennial exhibition celebrating the depth and breadth of paintings–or works related in some way to painting–from artists throughout the mid-Atlantic area. Now in its 14th iteration, Strictly Painting is one of the region's most important painting exhibitions. (Not) Strictly Painting will be juried by Tim Brown, Director of IA&A at Hillyer.
(Not) Strictly Painting 14 featured artists include:
Maremi Andreozzi
Sondra Arkin
MK Bailey
Julia Bloom
Maria Brito
Nikki Brugnoli
Tory Cowles
Pamela Crockett
Delna Dastur
Anna U Davis
Thomas Drymon
Gayle Friedman
Genie Ghim
Jane Godfrey
Pat Goslee
Reni Gower
Freya Grand
Lou Haney
Amelia Hankin
Tom Hill
Andrew Hladky
Leslie Holt
Sabiha Iqbal
Barbara Januszkiewicz
Wayson Jones
Joanne Kent
Pamela Keravuori
Chee Keong Kung
Ruth Lozner
Matthew Malone
Nicole Maloof
Nipun Manda
Sasha-Loriene McClain
Begona Morton
Olivia Niuman
Cory Oberndorfer
Sookkyung Park
Judith Pratt
Sharon Robinson
Violet Simulation
Kanika Sircar
Marsha Staiger
Ann Stoddard
Monica Stroik
Terry Thompson
Roderick Turner
Jessica van Brakle
Ashley Joi Whitley
Sharon Wolpoff
Debra Wright
Visiting Our Galleries
The Emerson Gallery is open Mondays through Saturdays from 10am – 4pm.
The Atrium Gallery is available during McLean Community Center operating hours.