Sculpture NOW 2020
Presented by the Washington Sculptors Group and McLean Project for the Arts
Thursday, September 17 – Saturday, November 14, 2020
Virtual Opening Reception: September 17, 7-8pm
This event is free and open to the public. Registration required.
Sculpture NOW Virtual Talk: Exhibition Highlights: Wednesday, October 28, 7pm
RSVP Now
Juror: Nancy Sausser, Curator and Exhibitions Director, McLean Project for the Arts
Sculpture NOW features works by members of the Washington Sculptor's Group.
This exhibition can be view online, as well as, in-person.
We are thrilled to be able to offer gallery visits to view our current exhibition "Sculpture NOW 2020" in partnership with the Washington Sculptors Group.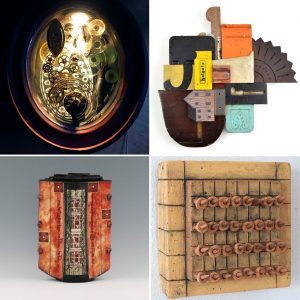 Sculpture NOW artists include, from top left: Melissa Burley, "When Time Stood Still"; Keith Krueger, "Hit the North"; Louisa Neill, "Capsule & Counting Continuity"; Kanika Sircar, "Gateway 3"
Included in this exhibit are works in a wide array of media and approaches by over 50 artists, including:
Esperanza Alzona
Lynda Andrews-Barry
Annie Broderick
Melissa Burley
Adjoa Burrowes
Hsin-Hsi Chen
Yunkyoung Cho
Sheila Crider
Jacqui Crocetta
Alonzo Davis
Steven Dobbin
Heloisa Escudero
Elissa Farrow-Savos
Joe Fish
Emily Fussner
Michael Gessner
Judith Goodman
Damon Hamm
Susan Hostetler
Emily Hoxworth Hager
Maria Karametou
Barrie Kaufman
Jean Kim
Zofie King
Craig Kraft
Gary Kret
Keith Krueger
Chee Keong Kung
Barbara Liotta
Ruth Lozner
Jacqueline Maggi
James Mallos
Donna McCullough
Louisa Neill
Mary Opasik
Sookkyung Park
Kristina Penhoet
Jane Pettit
Judith Pratt
Davide Prete
Marc Robarge
Christopher Romer
Jean Sausele Knodt
Mike Shaffer
Janathel Shaw
Daniel Shay
Kanika Sircar
Madeline Smith
Marcos Smyth
Paul Steinkoenig
Michael Thron
Elizabeth Vorlicek
Steve Wanna
Patricia Wasserboehr