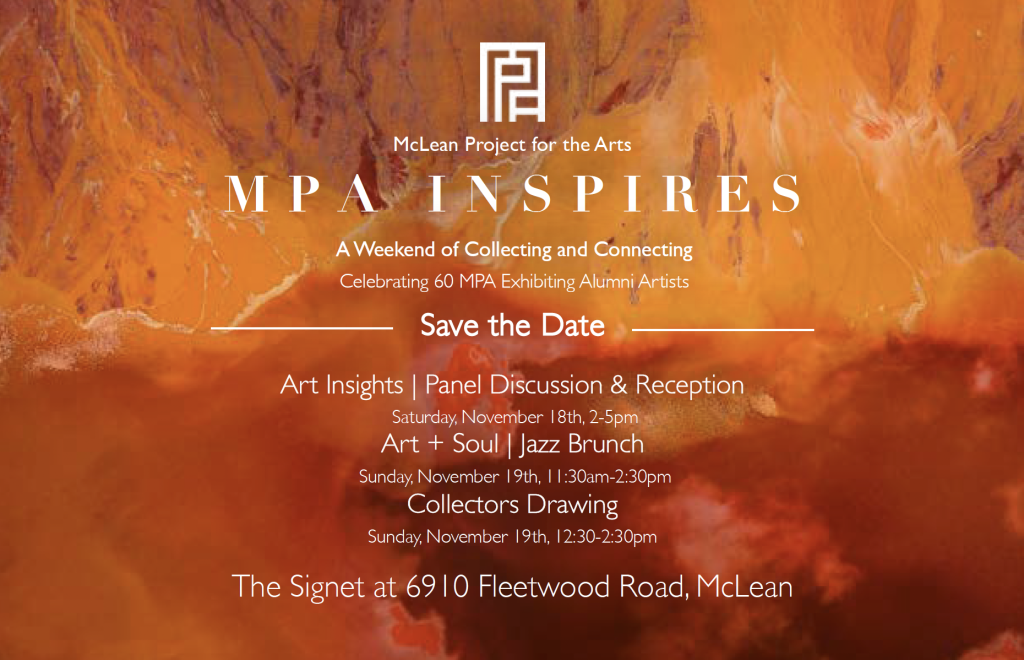 Save the Date!
Join us as we celebrate MPA's rich artistic history with MPA Inspires: Collecting and Connecting, an exciting weekend featuring 60+ MPA Alumni Exhibiting Artists. Please save the date for Saturday and Sunday, Nov. 18 and 19, and join us at 6910 Fleetwood Rd., McLean for our inaugural Artist & Collectors' Weekend.
Alumni Artist Exhibition Showcase
Celebrating 60 Years with Our Extraordinary Community of Artists
Plan to be part of the benefit weekend! Do not miss the chance to add a major artwork to your collection or start your collection. Artists featured in the Artist & Collectors' Weekend have donated their works in support of the development of a new MPA Art and Education Center. All artworks are available for a $600 purchase. Join us for a fabulous time on Saturday November 18th from 2-5pm for a collector's panel and gallery tour by artists in the alumni exhibition, to consider works that intrigue you to purchase. Then collect your artwork by a fun Collectors' Drawing, after enjoying the Art + Soul Jazz Brunch on Sunday, November 19th! You can also view the works online here.
Alumni Art Exhibition Showcase viewing hours are as follows:
November 9, 2023: 2-4pm
November 12, 2023: 2-4pm
November 14, 2023: 2-4pm
November 17, 2023: 2-4pm
Saturday, November 18, 2-5pm: Art Insights | Panel Discussion and Alumni Art Exhibition, presented by The Mather — We invite you to embark on an intimate journey into the creative minds behind the captivating artworks you'll encounter by our exhibiting alumni artists.
The Art Insights event will begin with a panel discussion featuring the following esteemed art collectors:
Michael Abrams and Sandra Stewart: Seasoned art collectors, Michael Abrams and Sandra Stewart have been collecting together for more than 15 years, with Abrams' independent collection spanning more than 40 years. Abrams currently serves as Commissioner at the Smithsonian American Art Museum (SAAM), and previously served on the boards of the Corcoran Museum, Photography Committee of the Art Institute of Chicago, and as past board chair of CulturalDC.
Nancy Hirshbein, Art Advocate: A passionate advocate for DC arts and artists, Nancy Hirshbein has served on the board of several DC arts organizations, including Hamiltonian Artists and Stable. She is also a docent at the Hirshhorn Museum and Sculpture Garden and at the Smithsonian American Art Museum, as well as a volunteer at the National Gallery of Art.
Eric Key, Arts Program Director at the University of Maryland University College: An art lover, investor, and collector, Eric Key's background includes more than 35 years of experience in art administration. Over his tenure in the art field, Key has served as curator for the African American Museum Dallas, Assistant Curator of African American History at Old City Park in Dallas, and Special Collections Librarian/University Archivist at Prairie View A&M University. Throughout his tenure, he has curated more than 200 culturally diverse exhibitions.
A "Meet the Artists" session and gallery tour will follow the panel discussion. Guests will enjoy a unique opportunity to connect with the alumni artists about their work, providing a firsthand glimpse into the inspiration that fuels their artistic expressions. The event will conclude with a reception.
Sunday, November 19, 11:30am-2:30pm: Art + Soul | Jazz Brunch — A casually sophisticated event for artists and art-lovers to connect and have fun, featuring live music, food, bubbles and bloodies, and a special Collectors' Drawing from those sixty artists' work. Purchase your brunch tickets here.
Collector's Drawing, 12:30-2:30pm: The centerpiece of the Art + Soul Art Fundraiser is our highly anticipated Collectors' Drawing. MPA is thrilled to present an exquisite collection of 60 artworks generously contributed by talented alumni artists who comprise MPA's artistic legacy. This event represents not only the creative spirit of our community, but also our collective commitment to making a positive impact.
Ticket and Sponsorship Opportunities
A wide variety of sponsorship levels are available–offering options for both individuals and corporate entities. Questions? For more information, please contact Jen Wormser at jwormser@mpaart.org.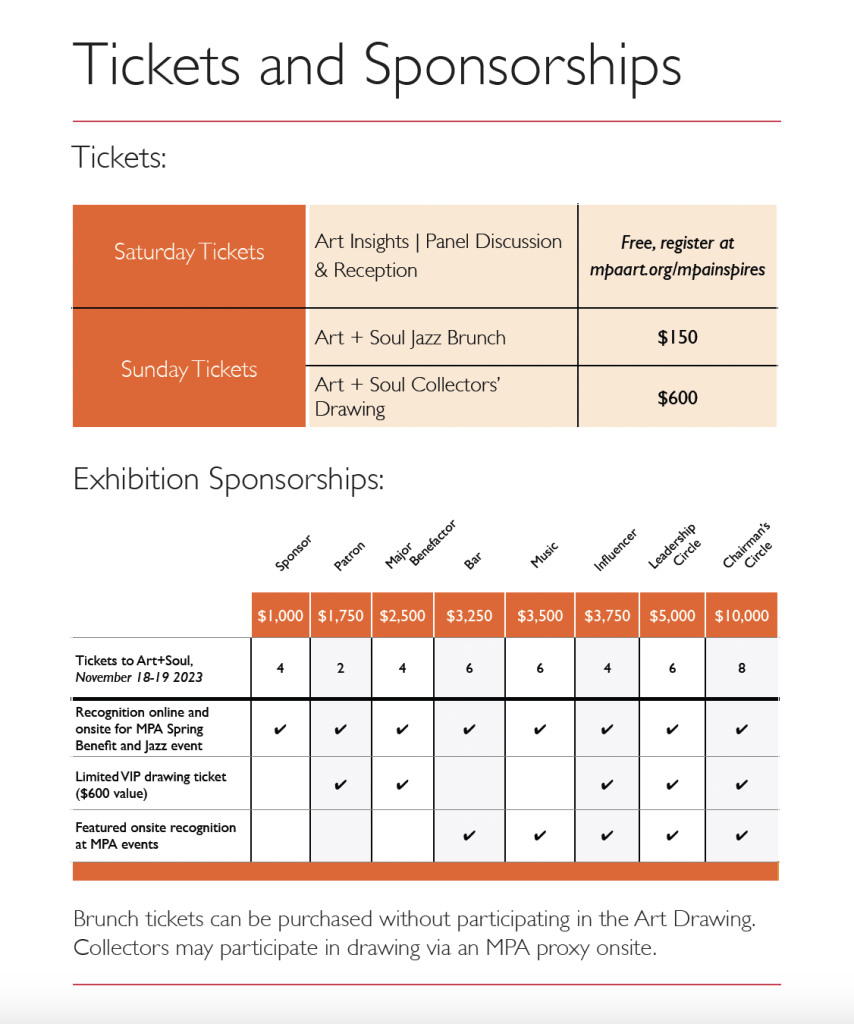 Host Committee Co-Chairs | Jacquie Henry & Katharine Powell
Host Committee
Ellie Christianson
Caroline Coakley
Adriana Escalante
Cindy Green
Thandi Gordan
Bob Nelson
Delia Swigart
Jennifer Touchette
Tracy Vibert Williams
Arts and Education Committee
June Linowitz, Chair
Richard Dana
Cheryl Edwards
Helen Frederick
Renee Sandell
Deirdre Saunder
Joe Wetzel
MPA proudly recognizes these generous sponsors for their support of MPA Inspires.

Reinsch Pierce Family
Lola C Reinsch & J Almont Pierce
Gerald E & Jennifer Pierce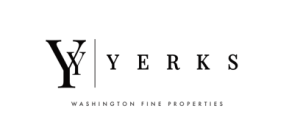 Jacqueline & H. Alexander Henry
Winthrop Custom Builders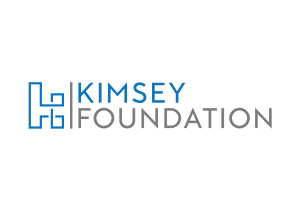 Lori & Paul Carbonneau
Pamela & David Danner
Sally & John Simms
Janie Strauss
Andrew A. Viola & Sandra J. Vito
Paul & Jill Young
Joe Wetzel

Lobkovich Kitchen Designs
Natalie & Kirk von Seelen
Marianne Prendergast, Washington Fine Properties

Donna & Bruce Berlage
Chain Bridge Bank
Dan Cameron Family Foundation
Kitty & Richard L. Dana
Megan & Vincent Dennis
Ann M. Murphy & Matthew J. Desch
Karen & Dan DuVal
Candace Kovacic-Fleischer & Walter Fleischer
The Frederick Fund
Michela Gorham
Pamela Gwaltney
Jane & Brant Imperatore
Arezu & Roger Edward Ingle
Debbie & Leo Jardot
Marla & Peter Kim
Lori Jenkins & George Swygert
Bari & Keith Levingston
Marsha & Dr. Rafik Muawwad
Rabbi Amy & Gary Perlin
Katharine & Dale Powell
Chelsea & Harish R. Rao
Silvija Strikis & Miguel Brown
Tiffany & Co.
Jack Wilbern
Lori & Ken Wiseman
Ellie & Brian Christiansen


Peter & Elizabeth Cole
Dick Smith