TONIGHT!! VMFA Forbidden City Talk
Space is limited to 100 and going fast – reserve your space today!
Forbidden City: Imperial Treasures from the Palace Museum, Beijing
Monday,  OCT 27, 7 PM
McLean Community Center, Community Hall
1234 Ingleside Avenue, McLean
Reservations required, Limited to first 100 people
Suggested donation $10
Please contact Sandy Treanor for your reservation:  streanor@mpaart.org or 703-790-1953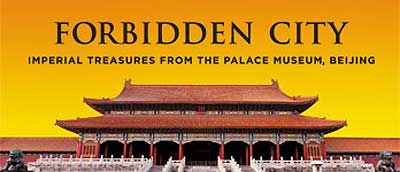 A slide/lecture by Lulan Yu, Adult Programs Coordinator of The Virginia Museum of Fine Arts will discuss this major  exhibition now open at the VMFA in Richmond.
"Forbidden City: Imperial Treasures from the Palace Museum, Beijing will present nearly 200 works of art drawn from the collection of the Palace Museum. Featured works include paintings, sculptures, costumes, furniture, gold and silver, jade, lacquer, and other decorative arts. These artworks represent the imperial collection from the Ming (1368-1644) and Qing (1644-1911) dynasties with a focus on the mid-Qing dynasty. In addition, the exhibition features a number of works drawn from VMFA's collection. Forbidden City addresses how Qing rulers incorporated their Manchu nomadic traditions, adopted cultural elements from ethnic groups, and endeavored to create a diverse government and maintain societal harmony" – Virginia Museum of Fine Art

Click here for information on the Forbidden City exhibition at the VMFA