MPA Spring Benefit 2020: Meet Our Co-Chairs
Mark your calendar for this year's MPA Spring Benefit on May 7th, co-chaired by Heidi Narang and Priscilla Stanzel. Our Spring Benefit raises critical funds supporting MPA's contemporary art exhibitions and art classes, as well as ArtReach, MPA's award-winning art education and outreach program.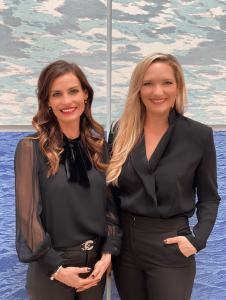 Meet Our Co-Chairs
MPA is thrilled to introduce this year's SpringBenefit Co-Chairs, Priscilla Stanzel (left) and Heidi Narang (right).
Priscilla Stanzel began her career in Washington, DC, working at the U.S. Capitol for two Speakers of the House of Representatives. She continued her government service at The White House when she joined the Executive Office of the President. Priscilla then pursued a career in law, serving as an Assistant Attorney General of South Carolina, where she prosecuted sex offenders in the Crimes Against Children Division. Now as a mother to three daughters, Priscilla enjoys supporting their numerous activities, volunteering at their schools, and participating in numerous community organizations.
An Interior Designer and avid art collector, Heidi Narang brings a passion for the arts and philanthropy to MPA. She earned a Master of Arts in Interior Architecture and Design from the Corcoran School of Art & Design in Washington, D.C. and spent time in Italy studying Hospitality and Retail Design. After working for a couple of large and small design firms, Heidi has been at home taking care of her family and being involved as an active supporter of organizations serving children, including Reading is Fundamental and No Kid Hungry.
Sincere thanks to Heidi and Priscilla for their work on behalf of MPA!