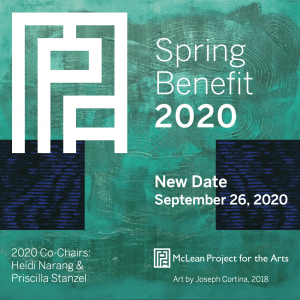 Save the date! MPA's rescheduled Spring Benefit 2020 will take place Saturday, September 26, 2020 at the home of Melissa and Michael Stock. McLean residents Heidi Narang and Priscilla Stanzel will co-chair this year's event, which raises critical funds supporting the organization's contemporary art exhibitions and art classes, as well as ArtReach, MPA's award-winning art education and outreach program.
This year's Spring Benefit will also feature live painting by Gavin Glakas, a freelance painter represented by Principle Gallery in Alexandria, VA, and Charleston, SC; Palm Avenue Fine Art in Sarasota, FL; and Hubert Gallery in New York. His paintings hang in the permanent collections of the United States Capitol, the Virginia State Capitol, universities, museums, and numerous other collections both public and private. Mr. Glakas teaches drawing and painting at the Yellow Barn Studio in Glen Echo, MD and lives in McLean with his wife and two sons.
Spring Benefit guests will also have the chance to bid on a piece by local artist Lisa S. Tureson. Best known by the Washington, DC metro community of design for her diversity as an artist, creator and problem solver, Ms. Tureson has touched a worldwide audience through public exhibitions; a large, published body of commercial work; charitable projects and private commissions. In 2017, Home & Design Magazine called Ms. Tureson's studio "a whirlwind of media in motion…it is evidence of a passion for discovery."
Spring Benefit sponsorships are now available–click here for more information. For any questions or inquiries about Spring Benefit or other MPA events, please contact Jennifer Wormser (jwormser@mpaart.org).
---
Spring Benefit Sponsorship Opportunities
---
Thank You to Our Spring Benefit 2020 Sponsors*
Chairman's Circle
The Kimsey Foundation
The Reinsch Pierce Family Foundation by Lola C. Reinsch
Windows Catering
Leadership Circle
Guillermo Almada
Lori & Paul Carbonneau
Bobby Han, AW4B
Heidi & RJ Narang
Gina & Chip Nash
New Dominion Women's Club
Tony Rounds
Priscilla & Scott Stanzel
TD Wealth
Major Benefactors
Linda & Colin Atkins
blue_underground
Alicia & Matt Bond
BOWA
Natalie & Wes Bush
Dabney & Joe Cortina
Karen & Dan DuVal
Gavin Glakas
Pamela Gwaltney
Arezu & Ed Ingle
Lori Jenkins & George Swygert
Lindsey & Mark Keatley
Bari & Keith Levingston
Shashi & Charles Narang
Marianne Prendergast
Cary & Bob Prince
Ellen Yanuck Rosenblum
Sahouri Insurance & Financial
Sally & John Simms
Silvija Strikis & Miguel Browne
Lily Talakoub M.D. and Pouyan Lotfi DMD
TTR Sotheby's International Realty
Lisa Tureson
Vinson Hall
Suzanne & Glenn Youngkin
Patrons
AJ & Chris Andreas
Pamela Danner
Janet & Bill DuBose
Jen & Chris Graham
Debbie Levin Jardot & Leo Jardot
Katharine & Dale Powell
Anne & Matt Schuyler
Miranda & Andy Vesey
Patricia Tetro & Jack Wilbern
Sponsors
Erin Alberto & Janelle Santo
Bank of America
Chain Bridge Bank
Blair Childs and Erin Shaffer
Ellie & Brian Christiansen
Ashley & Alan Dabbiere
Claudia Diaz
Candace Kovacic-Fleischer & Walter Fleischer
Karen & Chuck Ghoorah
Carolyn Gore-Ashe
The Haber Mandel Family Fund
Betsy and Bob Huffman
Kristin Jensen and Mina Faltas
Maria Kelly & Kathleen Kennedy – Kennedy & Co Residential and Commercial Real Estate
Amy & Allen King
Susie & John King
Linda Kocher
Susanne & Eric Larsen
McLean Foot and Ankle Center
The Oh My Goff Show
Marianne & Joseph Polito
Sushma Shenoy & Amit Saluja
Janie Strauss
Kate & Shahab Vagefi
Lori & Ken Wiseman
*As of March 31, 2020