TONIGHT! The Phillips Collection Art Talk: Made in the USA at The Alden
RSVPs are a must!  Click here for your free ticket via Eventbrite.  MPA greatly appreciates your $10 donation at the door.
Tickets are general admission.  Doors will open at 6:30 PM
McLean Project for the Arts and The Alden will welcome Dr. Susan Behrends Frank, the curator of Made in the USA at 7:00 pm in The Alden theatre.  Dr. Frank will give a presentation on Made in the USA, American Masters from The Phillips Collection, 1850-1970, currently on exhibit at The Phillips Collection from March 1 – August 31, 2014.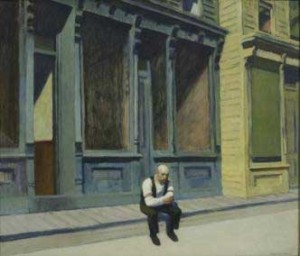 Made in the USA is the most comprehensive on-site installation of The Phillips's American collection ever undertaken; it follows the success of a major touring exhibition of 100 of the museum's American masterworks. From 2010 to 2013, that exhibition traveled to Italy, Spain, and Japan, then to Nashville, Fort Worth, and Tampa, and was seen by more than 300,000 people. This expanded version of that presents a thematic journey that reveals the breadth of America's modernist vision. The collection presents the rich diversity and multiplicity of voices assembled by Phillips, who relied on his eye for good work, distinctive talent, and great promise.
The Phillips Collection has celebrated American art and artists since it opened to the public in 1921 as America's first museum dedicated to modern art. From the outset, museum founder Duncan Phillips intended that this gallery in the nation's capital was to be a champion for the country's artists. He devoted his life to finding, fostering, and collecting the very best of American art, particularly the work of living artists guided by their individual visions, rather than by popular trends.
RSVPs are a must!  Click here for your free ticket via Eventbrite.  MPA greatly appreciates your $10 donation at the door.
Tickets are general admission.  Doors will open at 6:30 PM
For ADA accommodations for this event, please email evelyn.verdon@fairfaxcounty.gov by June 1.