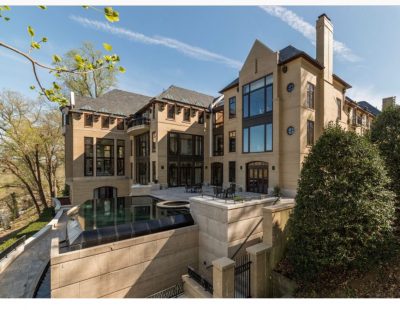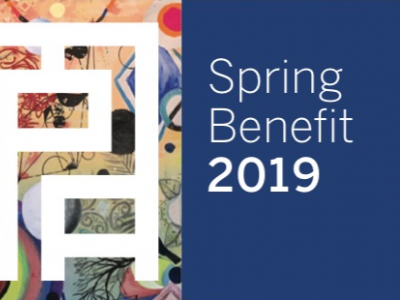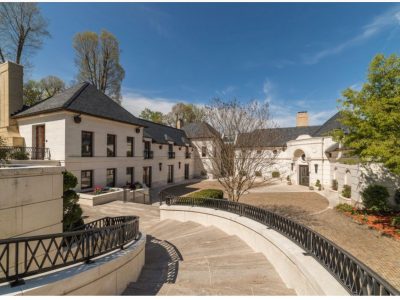 Spring Benefit is May 16, 2019
Please join MPA on Thursday, May 16, 2019 for Spring Benefit, our signature spring fête. This year's event will take place at The Falls, the Kimsey family residence overlooking the Potomac River. Hosted by Sarah and Mark Kimsey and co-chaired by McLean residents Bela Aggarwal and Jacqueline Henry, Spring Benefit raises critical funds supporting MPA's exhibitions, education programs and art outreach.
Reflecting timeless, modern architecture and privately positioned on a premier site overlooking the Potomac River, The Falls is one of the most iconic residences in the Washington region. MPA Spring Benefit guests will enjoy picturesque views of the Potomac River. The grounds also feature The Marden House, one of only a handful of homes in the Commonwealth of Virginia designed by famous architect, Frank Lloyd Wright.
Spring Benefit will feature fabulous fare from Windows Catering Company, live painting demonstrations, and more. MPA is pleased to announce that David Yurman is signed on to sponsor this year's event.
Sponsorship opportunities are available. For any questions or inquiries, please contact Jennifer Wormser (jwormser@mpaart.org). Reserve your spot now for this fabulous annual event!
Sponsor Spring Benefit
As a Spring Benefit Sponsor, your support helps MPA connect art and community throughout the year. Sponsorship opportunities are available at a range of levels, and offer numerous benefits.
Please note: Sponsorships contribute to overall MPA operations and are administered through Board-directed funds.
2019 Sponsors: If you have not do so already, please register all of your attendees before Monday, April 15th. Register by calling the office at 703-790-1953.
Individual Tickets are SOLD OUT
If you'd like to attend Spring Benefit, please consider becoming a sponsor to ensure your ticket. 
Sincere thanks to all of our 2019 Spring Benefit Sponsors.*
Anonymous
Dorchester Towers & Apartments on Columbia Pike, Arlington by Lola C. Reinsch
Jean Schiro-Zavela & Vance Zavela
Anonymous
Lori & Paul Carbonneau
Dabney & Joe Cortina
Kitty & Juan Pablo Gonzalez
Barbara Brown Hawthorn,
Barbara Brown Hawthorn Interiors, Ltd.
Maggie O'Neill
Norma & Russ Ramsey
Tony Rounds
Alice & Ken Starr
Jill & Paul Young
Major Benefactors
1901 Group
Bela & Sanjeev Aggarwal
Ziad Ali DMD MD, Nadia Eltaki MD
Linda & Colin Atkins
Catherine Day & Joe Wetzel
Kelley & Doug Davenport
Janet & Bill DuBose
Karen & Dan DuVal
Friends of The Langley School
Elaine & Howard Forman
Jen & Chris Graham
Jacqueline & Alexander Henry
Jane & Brant Imperatore
Arezu & Ed Ingle
Debbie Levin Jardot & Leo Jardot
Lindsey & Mark Keatley
Bari & Keith Levingston
The Lucier & McMichael Families
Michele & Doug McCormick
The Magner & Narang Families
Gina & Chip Nash
Callie & Brad Nierenberg
Praful Ramineni MD, West End Plastic Surgery & the Goyal Family
Patricia Tetro & Jack Wilbern
Suzanne & Glenn Youngkin
Patrons
Sherif Abdalla & Mark McFadden
Andrita (AJ) & Chris Andreas
Cassaday and Company
Diah & Greg Eaton
The Daniel & Ashley Fisher Family Foundation
Drs. Fizzah & Tim Gocke
Lori Jenkins & George Swygert
Lobkovich Kitchen Designs
Danielle & Chris Marquez
Jillian & Jeremy Marwell
Shannon & Bob McCarter
Cynthia & Gerald Miller
Katharine & Dale Powell
Marianne Prendergast
Cary & Robert Prince
Brittany Root & Kevin Yam
Ellen Yanuck Rosenblum
Anu Saxena & Dennis Perry
Dawn & Scott Schnell
Anne & Matt Schuyler
Sushma Shenoy & Amit Saluja
Devereux & James Socas
Silvija Strikis & Miguel Browne
TD Wealth
Miranda & Andy Vesey
Desi & Clyde Woltman
Sponsors
Nicole Backus
Sherrie & Sidney Beckstead
Betsy & Ryan Bensten
Cathy & Brian Bernasek
Bitar Cosmetic Surgery Institute
Alicia & Matt Bond
Laurie & Andy Buchanan
Shannon & Scott Burwell
Keirsten & Lael Campbell
Ellie & Brian Christiansen
Caroline & Liam Coakley
Amy & Steve Coles
Ashley & Alan Dabbiere
Pamela & David Danner
Megan & Vincent Dennis
Anne DiBenedetto, COMPASS
Janet & Bill DuBose
Candace Kovacic-Fleisher & Walter Fleischer
Lesley Forde Photography
Georgetown Cupcake
Michelle & Bob Gottke
Anjali & Arun Gupta
Kennedy & Co Real Estate, Maria Kelly & Kathleen Kennedy
Amy & Allen King
Susie & John King
Susi & Eric Larsen
Diane Lewis
Elizabeth & Jan Lodal
Laura & Brendan MacCarthy
Tricia & Geoff Malloy/Malloy Auto Group
Cherylyn & Chris Mizzo
Dale Mott & Ken Hyle
Kim & Dan Overdeck
Nancy & Steve Perry
Ellen Yanuck Rosenblum
Ashleigh & Josh Sekoski
Erin Shaffer & Blair Childs
Sarah & Dane Smith
The Washkewicz Family Foundation
Lori & Ken Wiseman
*Sponsor list current as of April 13, 2019