Register for Fall Family Art Workshops August 17, 24
Two Fall Family Art Workshops for you to make art — and memories — together!

Family Art Workshop – Sound Drawings: Colored Rhythms
Saturday, October 17
10 a.m. – 11:30 a.m.
$10/family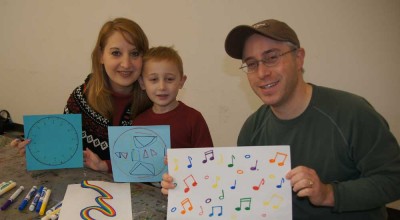 Try something different and have fun as a family!  Meet for a brief, guided tour of McLean Project for the Arts exhibitions, "Scriptronics: An Art for the Future" and "Color Riffs," then create a one-of-a-kind artwork with your family to take home.
Inspired by these exhibitions, this unique Family Art Workshop combines visual art and music!  Draw to the sounds of instruments; make cool rhythms while you draw!  Instructor Sharon Fishel will show you how to use crayons, watercolor paints, markers, and chalk to create fantastic artwork containing colorful, rhythmic patterns.
This workshop is geared to children four to eight years old, and their families.
Register online for course #6501.215
Family Art Workshop – "New Nature" Collage Workshop (STEAM Focus: Art & Science)
Tuesday, November 17
10 a.m. – 11:30 a.m.
$10/family
How closely do you observe the world around you?  Instructor Sharon Fishel helps your family learn how to use shape, color and written words to describe what we see using our powers of scientific observation!
Bring in pictures of your favorite plants, fall leaves, and other natural materials to use in a collage you make together.