Sponsorship Opportunities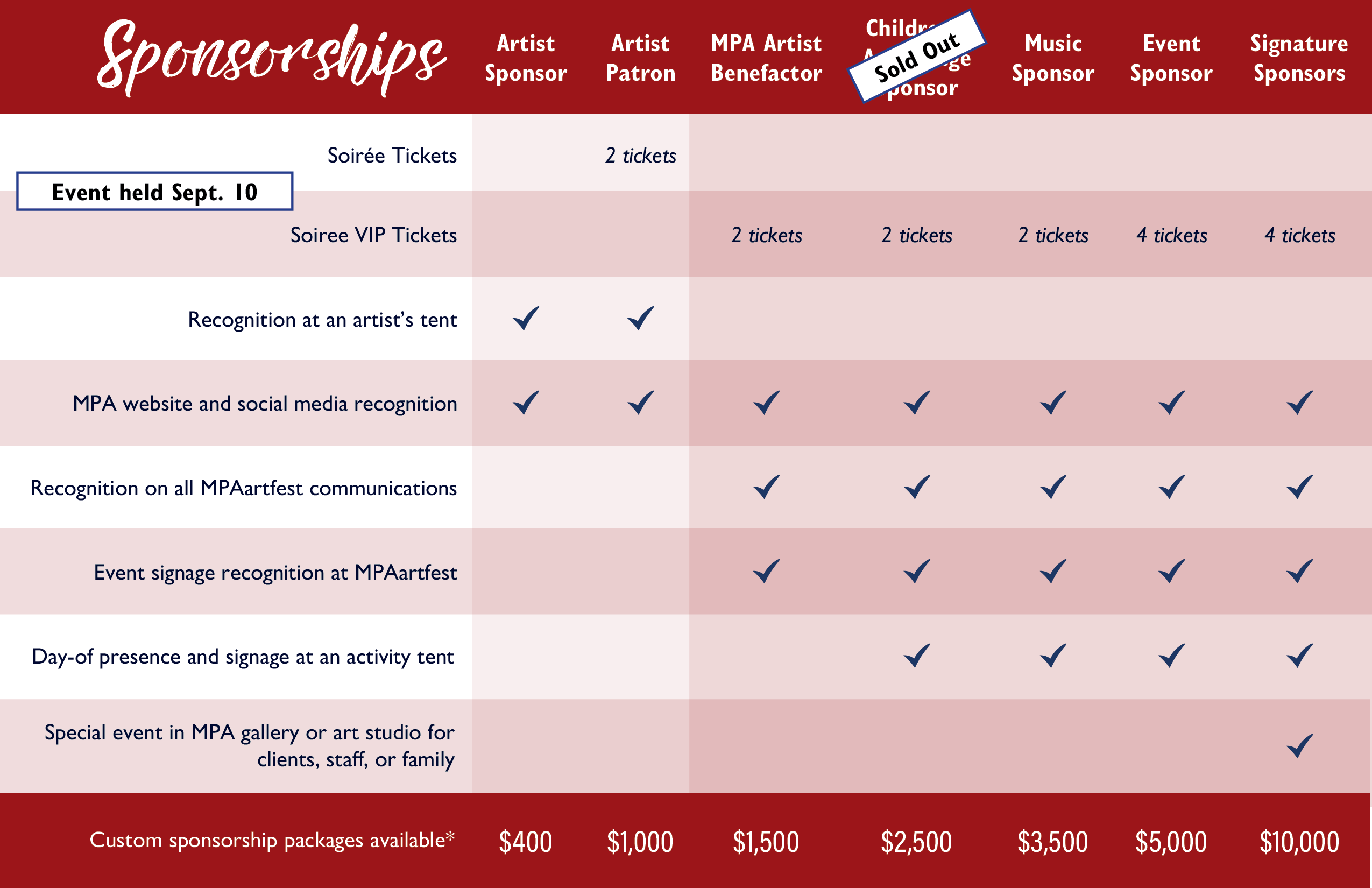 *Please note: sponsorships before September 27th will be recognized on park signage. 
Please contact Jennifer Wormser for any questions about sponsorship packages, jwormser@mpaart.org. 
McLean Project for the Arts is a non-profit 501(c)3 charitable organization, with the tax identification number of EIN #52-1374407. Your donation (less cost of goods and services) is considered a charitable contribution under the U.S. Tax Laws. Consult your tax advisor to determine the extent of the applicable tax deduction.
Our MPAartfest & Soirée Sponsors
Thank you to these generous community sponsors for their support of Soirée!
Win Sheridan
JJ and Sonu Singh
Anjali and Arun Gupta
Harmonic Solutions
Priscilla and Scott Stanzel
Childrens' Activity Sponsor
BOWA
McLean Properties
Delegate Kathleen Murphy
Dr. and Mrs. Sanjeev and Bela Aggarwal
Sanju Bansal
Donna and Bruce Berlage
Miguel Browne & Silvija Strikis
Dave and Maribeth Burg
Lori & Paul Carbonneau
Richard and Kitty Dana
Pamela and David Danner
David and Elizabeth Hamilton
Sarah and Mark Kimsey/p>
Paul and Allison Lombardi
M&M Properties Group/Compass Real Estate – Maria Kelly & Madeline Middlebrook
McLean Community Foundation
New Dominion Women's Club
Neil Parekh
Norma & Russ Ramsey Family Foundation
Reinsch Pierce Family Foundation by Lola C. Reinsch
Rossen Landscape
Amit Saluja & Sushma Shenoy
Sally and John Simms
Margi and Bob Vanderhye
Elaine and Howard Forman
Barbara Hawthorn Interiors, Ltd.
Mr. and Mrs. H.A. Henry
Christopher J. Melnick
Cynthia and Jerry Miller
Patrick Nugent
Marianne Prendergast Washington Fine Properties
Marcus Simon of EKKO Title McLean
Janie Strauss
Devin Talbott
Stacey and Don Wood
Alicia and Matt Bond
Mr. and Mrs. Kevin Boyce
Capitol Street
Rohini & Aneesh Chopra
Brian & Ellie Christiansen
Francessa and John Cox
Charles Divone
Kitty and Juan Pablo Gonzalez
Jen and Chris Graham
Betsy and Bob Huffman
Bari and Keith Levingston
Marcia Lund
George and Alicia McKenzie
Richard and Kara Moroscak-First National Bank
The Organic Butcher of McLean
Robin Phillips and Timothy Thomas
Anne and Greg Polk
Katharine and Dale Powell
Byron Risdon LLC Interior Design
Chelsea R. Rao & Harish R. Rao
Jeff and Cindy Smith
Linda Klieger Stillman
Cassandra and Brendan Walsh
BodyCentric Fitness
Carolyn Gore-Ashe
Jen & Chris Graham
Les Irby, CFP®, AIF®