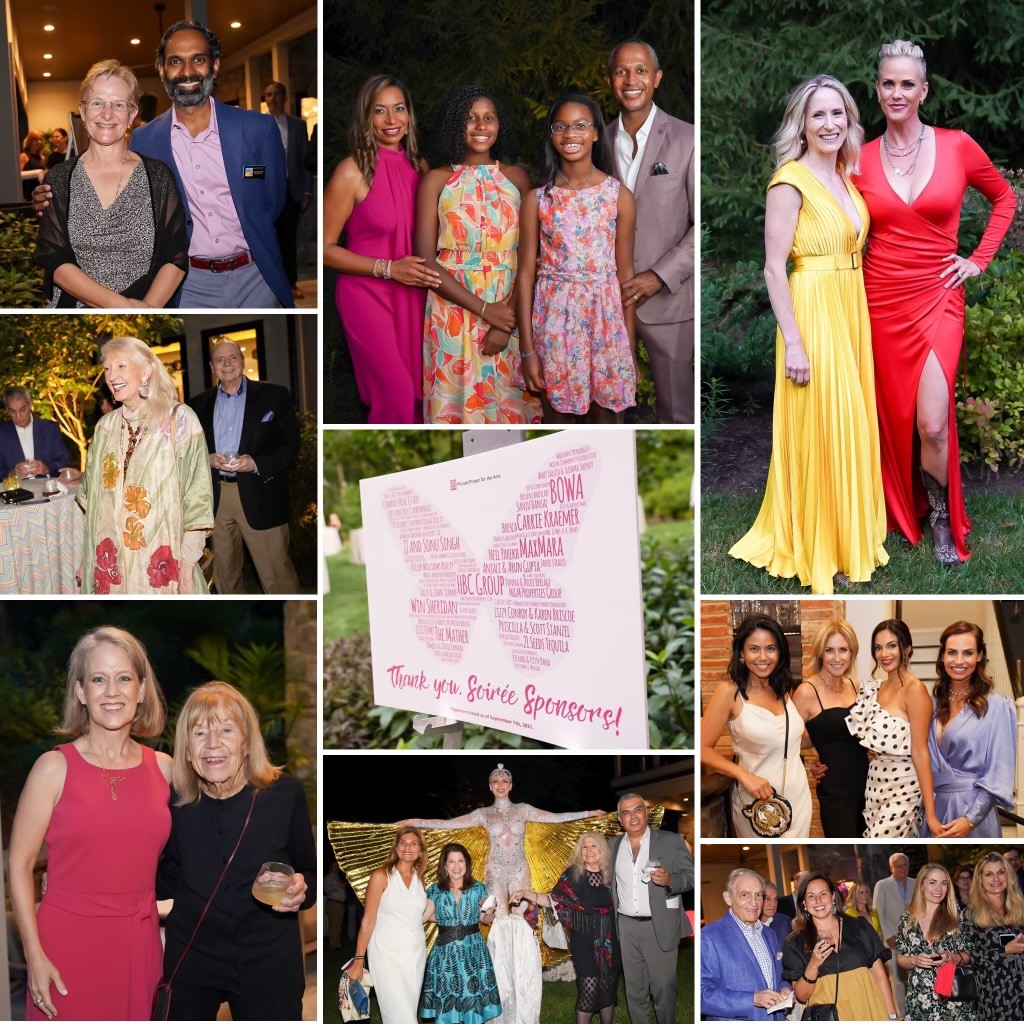 Sincere thanks to everyone who joined us last week for our annual MPAartfest Soirée Celebration!
We are so grateful for the generous support of our community at this annual artsy and fun-filled preview of our MPAartfest! We hope our guests enjoyed the party, and the chance to celebrate with other supporters. Endless gratitude to our hosts, Drs. Victoria and Lonnie Davis, our co-chairs JJ Singh and Lizzy Conroy, and all of our community partners and sponsors. And a very special thanks to Tony Powell for the fabulous photographs included above!
Connecting art and arts education with our community for more than a half-century is something we take pride in each and every day. McLean Project for the Arts remains dedicated to the idea that art is an essential part of the life of every community. With the help of your generous support, MPA will be able to continue to enrich the lives of so many in our community.
Thank you again to all who joined us. We look forward to seeing all of our MPA friends and family on Sunday, October 3 for MPAartfest in McLean Central Park, 10am – 4pm!
Soirée Celebration: Reconnecting Art & Community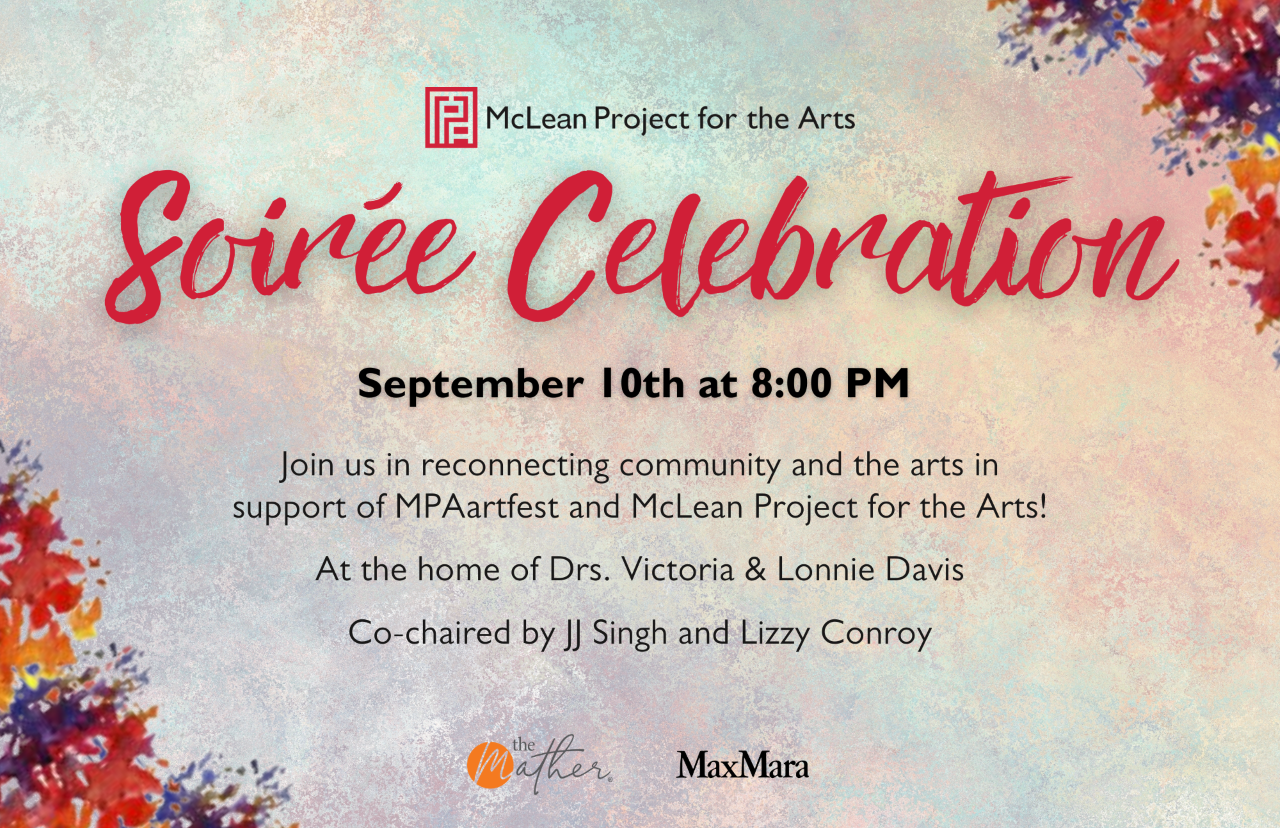 This artsy and fun-filled evening gives guests a unique preview of MPAartfest, showcasing artists and their work.
Important Soirée Update: COVID-19 continues to present new hurdles, and MPA is thankful for your partnership and understanding as the situation, and thus, our policies and practices evolve accordingly. As a result of the ever-changing health landscape and in line with the practices of other arts venues in the region, MPA will be requiring each guest at Soirée Celebration on September 10 to present their vaccine card and ID at check-in. It is the responsibility of the Soirée ticket purchaser to comply with and to communicate these requirements to their guests. MPA Soirée 2021 will take place outdoors, but please bring a mask should you need to use an indoor space during the event.
For more information, please review our Soirée Frequently Asked Questions.
Join the celebration as a Sponsor and support MPAartfest!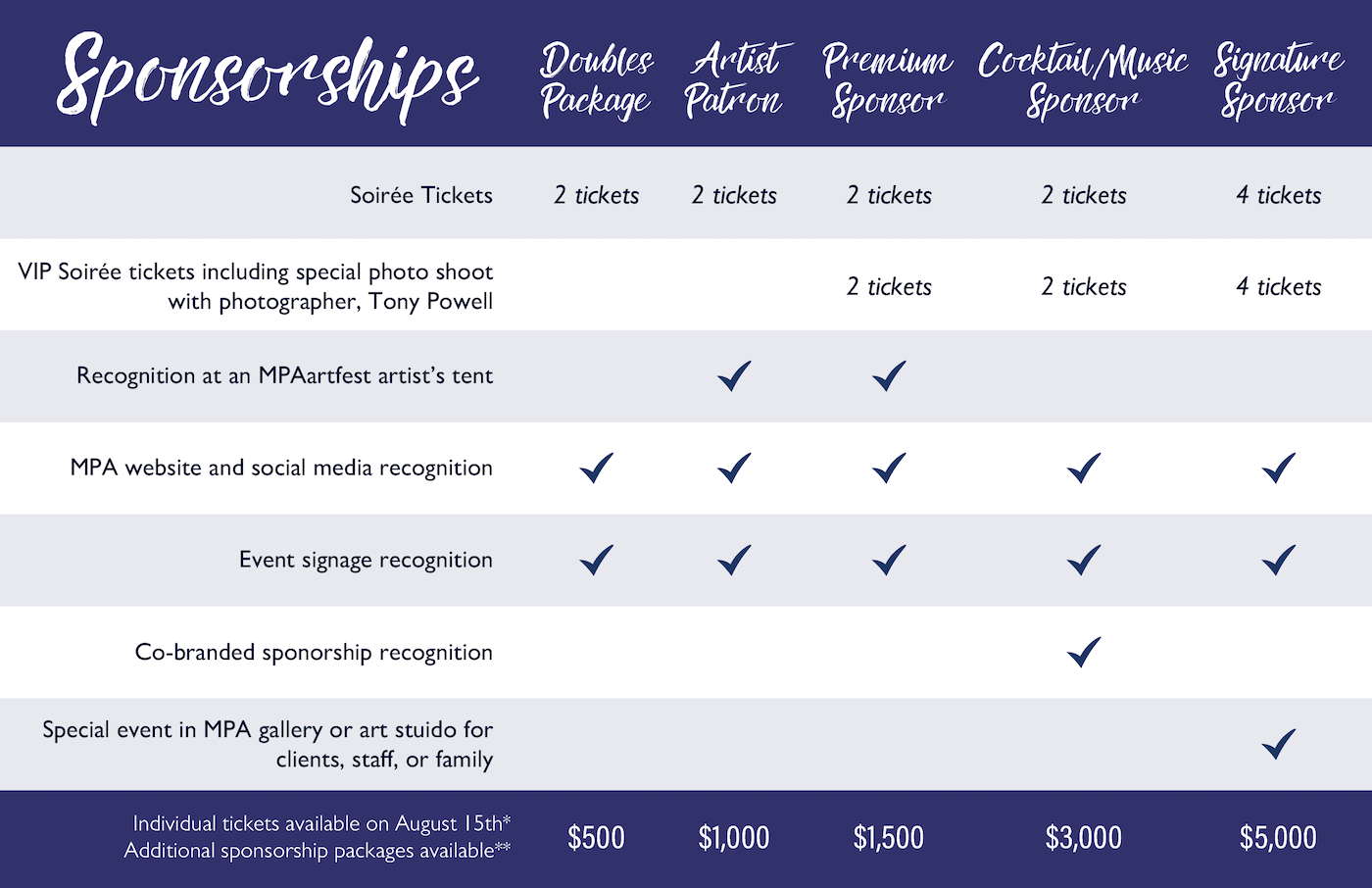 *Please note: Sponsorships are still available but the sponsorship deadline for printed recognition night-of was Sept. 6th. 
Please contact Jennifer Wormser, jwormser@mpaart.org with any questions about sponsorship opportunities and benefits. 
Our MPAartfest & Soirée Sponsors
Thank you to these generous community sponsors for their support of Soirée!
Win Sheridan
JJ and Sonu Singh
Cocktail and Music Sponsors
Anjali and Arun Gupta
Harmonic Solutions
Priscilla and Scott Stanzel
Childrens' Activity Sponsor
Dr. and Mrs. Sanjeev and Bela Aggarwal
Sanju Bansal
Donna and Bruce Berlage
Miguel Browne & Silvija Strikis
Dave and Maribeth Burg
Lori & Paul Carbonneau
Richard and Kitty Dana
Pamela and David Danner
David and Elizabeth Hamilton
Sarah and Mark Kimsey
Paul and Allison Lombardi
M&M Properties Group/Compass Real Estate – Maria Kelly & Madeline Middlebrook
McLean Community Foundation
New Dominion Women's Club
Neil Parekh
Norma & Russ Ramsey Family Foundation
Reinsch Pierce Family Foundation by Lola C. Reinsch
Rossen Landscape
Amit Saluja & Sushma Shenoy
Sally and John Simms
Margi and Bob Vanderhye
Elaine and Howard Forman
Barbara Hawthorn Interiors, Ltd.
Mr. and Mrs. H.A. Henry
Christopher J. Melnick
Cynthia and Jerry Miller
Patrick Nugent
Marianne Prendergast Washington Fine Properties
Marcus Simon of EKKO Title McLean
Janie Strauss
Devin Talbott
Stacey and Don Wood
Alicia and Matt Bond
Mr. and Mrs. Kevin Boyce
Capitol Street
Rohini & Aneesh Chopra
Brian & Ellie Christiansen
Francessa and John Cox
Charles Divone
Kitty and Juan Pablo Gonzalez
Jen and Chris Graham
Betsy and Bob Huffman
Bari and Keith Levingston
Marcia Lund
George and Alicia McKenzie
Richard and Kara Moroscak-First National Bank
The Organic Butcher of McLean
Robin Phillips and Timothy Thomas
Anne and Greg Polk
Katharine and Dale Powell
Byron Risdon LLC Interior Design
Chelsea R. Rao & Harish R. Rao
Jeff and Cindy Smith
Linda Klieger Stillman
Cassandra and Brendan Walsh