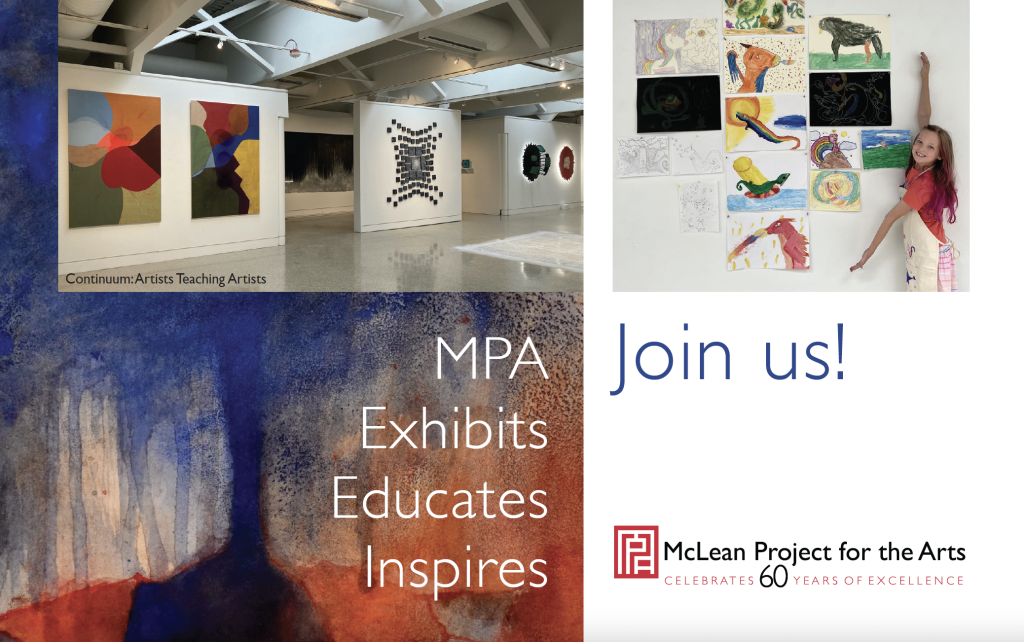 McLean Project for the Arts is proud 

to celebrate our 60

th

 anniversary in 2022!

MPA

 

offers

 distinctive programming 

for all members of our community 

in 

our

 premier center for contemporary visual art exhibitions and arts education

. 

W

ith

 your support, 

we 

continue adapting and connecting art and community

, as we have since 1962.

 
We are stronger than ever and 

looking ahead to the next chapter of our story. Join us! 
Giving Levels
$25: Keep the lights on!
Every dollar truly makes a difference – thank you for supporting the operations of McLean Project for the Arts.
$75: Support FCPS Student Art Shows
A gift at this level supports our annual Youth Art Show, which provides an opportunity for local students to display their work in a real art gallery.
$150: Art Supplies for MPA ArtReach
A gift at this level provides supplies for MPA's signature outreach program, MPA ArtReach, bringing students, seniors and individuals with disabilities into the gallery.
$250: Summer Camp Scholarship
Your donation provides 1 scholarship to a financially disadvantaged local student to attend an MPA summer art camp.
$350: Best Buddies Programs
A donation at this level provides the supplies and instruction for our new partnerships with the Langley and McLean High Schools' Best Buddies programs. Help us expand to other Fairfax County schools!
$500: Live Music
Support live music at an in-gallery or virtual MPA art event this year.
$1,000: FCPS ArtReach
A gift at this level funds the buses to bring students from an FCPS Title 1 school into our gallery for our ArtReach program.
$2,500: Artist Support
Support Mid-Atlantic artists by covering the artist and juror honoraria for the winners of MPA's 17th Annual Not Strictly Painting Exhibition in Fall 2023.
MPA offers these payment options:
Online:
Make a secure online or recurring payment with your credit card. Click here to give.
By mail:
Send in a check with this MPA Donation Form and mail to:
McLean Project for the Arts
Attn: Annual Giving
1234 Ingleside Avenue
McLean, VA 22101
Questions? Email giving@mpaart.org.
McLean Project for the Arts is a non-profit 501(c)3 charitable organization,
with the tax identification number of EIN #52-1374407. Your donation is considered
a charitable contribution under the U.S. Tax Laws. Consult your tax advisor to
determine the extent of the applicable tax deduction.
OTHER WAYS TO GIVE
This is a unique year for giving and there are many ways to show your support of MPA. Consider gifts of securities, donor advised funds, bequests, and charitable lead and remainder trusts.
Donate Monthly
Make a monthly gift at any level. Your recurring monthly donation provides a reliable source of funding for all of MPA's year-round programs.
Donor Advised Funds
A donor advised fund, which is like a charitable savings account, gives an individual the flexibility to recommend how much and how often money is granted to a non profit. Check with your financial advisor to request a grant or recurring grants for MPA.
Gift of Stock
MPA is happy to work with you on making gifts of publicly traded securities that have appreciated in value.
Please contact MPA for more information about making a gift of securities, and to ensure your account is properly credited.
Employer Matching
Many employers will match your charitable contribution with an equal or higher amount if you or your spouse are an employee, retiree, or board member of a company. Check with your company to see if they have a matching gifts program and to request a matching gift form. Email or mail the completed and signed form with your gift to MPA.