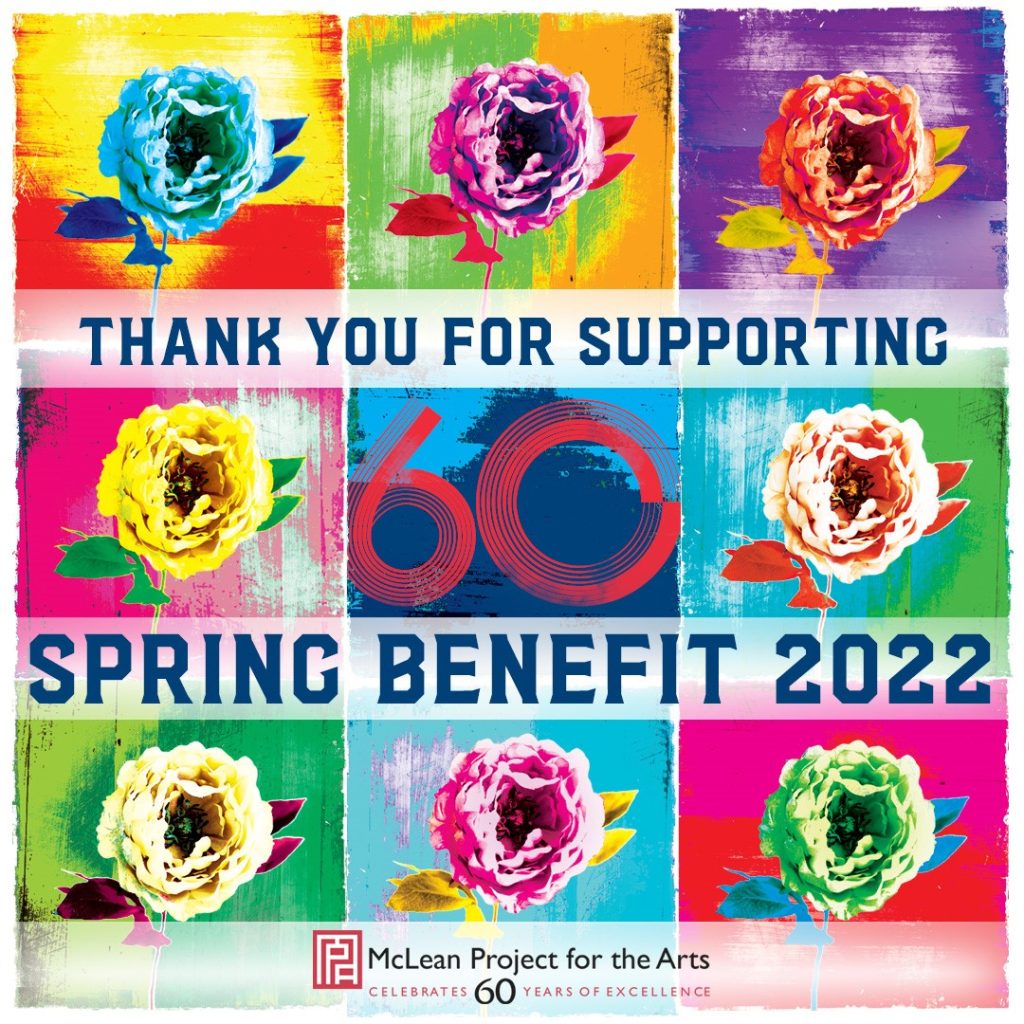 Spring Benefit Success — Thank You!
Thank you to all who joined us for our 2022 MPA Spring Benefit. It was a spectacular evening! Special thanks to our co-chairs Mary Cull and Anne Polk, and to Kathy and Frank Finelli for graciously hosting the event.
Your generosity raised important funds that will help MPA further our mission of connecting art & community. On behalf of all of us at MPA, our warmest thanks for your truly outstanding generosity and support. Together, we're making a difference in our community.
Individual tickets are on sale now!
Now in its 60th year, MPA relies on the funds raised at Spring Benefit to further its mission of connecting art & community. Co-chaired by Mary Cull and Anne Polk, the event will feature fare from Windows Catering, music, and more. Don't miss your chance to be a part of this enchanting evening under the stars!
If you're new to MPA, let us tell you more about what we do!
Thursday, May 12th
VIP Reception: 6:00-7:30 pm (Check-in begins at 5:45pm)
Main Reception: 7:30-9:30 pm
Venue: The Finelli Residence
1012 Founders Ridge Lane
McLean, VA 22102
Co-chairs: Mary Cull and Anne Polk
About Founders Ridge
This year's Spring Benefit venue is the private residence of our gracious hosts, Kathy and Frank Finelli, located in The Reserve. A special thanks to the wonderful team at HEIDER at TTR Sotheby's International Realty for making this evening possible. We look forward to welcoming you to the stunning grounds for our signature MPA spring event in this magical outdoor oasis.
Raffle and Silent Auction
Raffle
The Spring Benefit Raffle features many high-value items. Tickets 1 for $50, 3 for $100, or 6 for $200. All tickets will be entered to win one of the following three items:
Iconic Max Mara Whitney bag in lush green velvet. With top handles and a cross-body strap, embellished with rhinestones, to carry by hand or over the shoulder.  The Whitney Bag is a collaboration between Max Mara and architect Renzo Piano's Building Workshop, the designers behind the now-iconic Whitney Museum of American Art. Loved by style icons everywhere, the bag is inspired by the Museum's pure design and geometry. (Value $1420)
DAVID YURMAN $500 gift card with an exclusive shopping experience for four guests. (Value $500)
DAVID YURMAN Infinity Bracelet (3mm) with diamonds valued at $475. The DY Crossover® Collection explores the rhythmic weaving of line to create form and movement. Using a dynamic range of smooth and cabled cords, the individual strands are meticulously entwined. Sterling silver; pavé diamonds, .051 total carat weight; hook clasp. (Value $475)
*Drawing will be held May 12, 2022, during the MPA Spring Benefit.  Need not be present to win. All proceeds benefit the McLean Project for the Arts. 
Silent Auction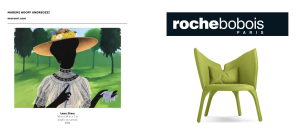 Our silent auction will feature two items–a Maremi Hooff Andreozzi painting and a Roche Bobois Lady B Chair with Kenzo Takada Pillow:
Roche Bobois Lady B Chair: Created by Cécile Maia Pujol, winner of the 2014 Roche Bobois Design Award, the Roche Bobois Lady B armchair is an eco-friendly reinterpretation of the traditional conversation chair intended to "encourage dialogue and to give users a different perspective on their surrounding." (Value $2,800)
Maremi Hooff Andreozzi Painting: Through her work, Maremi Hooff Andreozzi creates symbolic portraits of inspirational woman in history and celebrate their narratives. Maremi has exhibited her work regionally and nationally. Her 2021 two-person show, "May You Live in Interesting Times" at Adah Rose's Gallery was reviewed by Mark Jenkins in The Washington Post. Her painting, "The Suffragists" was exhibited in the Phillip's Collection show, "Inside Outside Upside Down". She is represented by Adah Rose's Gallery in Kensington, MD. (Lawn Dress, 18 in x 24 in x 1 in; acrylic on canvas; 2022. Value $2,500)
*Need not be present to win, or attend event to participate. If you would like to bid via proxy, please email Jen Wormser at jwormser@mpaart.org. Starting bid is $500, increments of $100. All proceeds benefit the McLean Project for the Arts.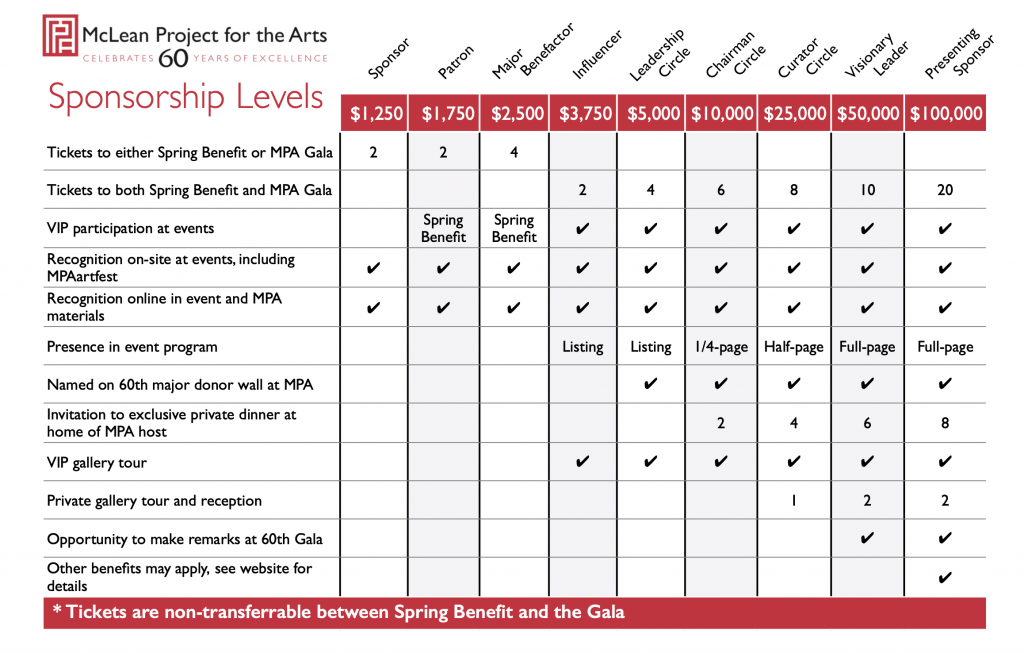 Questions? For more information, please contact Jen Wormser at jwormser@mpaart.org.
Please note: Sponsorship packages are intended to be purchased by one entity. At this time, we cannot accommodate splitting packages between individuals, companies, or families. MPA is a nonprofit organization and our 60th anniversary events raise critical funds needed to support our mission-based programs.
For donors interested in giving from a Donor Advised Fund (DAF), please note that IRS regulations do not permit any benefits, including tickets, to be conferred in connection with DAF contributions. IRS regulations state that ticket costs, including both cost of goods/services and charitable amount, should be paid for from sources other than a DAF.
For donors interested in employer matching gifts, please contact MPA first to determine the tax-deductible amount.
McLean Project for the Arts is a non-profit 501(c)3 charitable organization, with the tax identification number of EIN #52-1374407. Your donation (less cost of goods and services) is considered a charitable contribution under the U.S. Tax Laws. Consult your tax advisor to determine the extent of the applicable tax deduction.
Thank you to these generous MPA community sponsors for their support of MPA Spring Benefit! 
Chairman Circle


H. Alexander & Jacqueline Henry
Total Wine & More
Windows Catering
Jill & Paul Young
Leadership Circle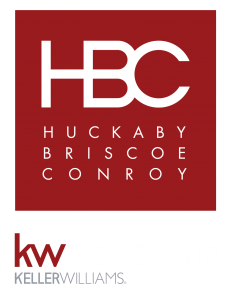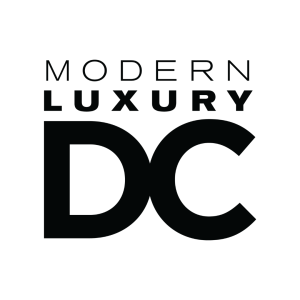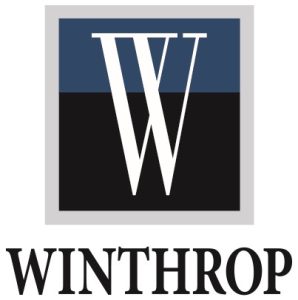 Lori & Paul Carbonneau
Dabney & Joe Cortina
Mary Cull & Anne Polk
Charles Divone
Karen & Dan DuVal
Kitty & Juan Pablo González
Chip & Gina Nash
Marianne Prendergast, Washington Fine Properties
Norma & Russ Ramsey
Roche Bobois
Ellen Yanuck Rosenblum
Silvija Strikis & Miguel Browne
Andrew A. Viola
Influencers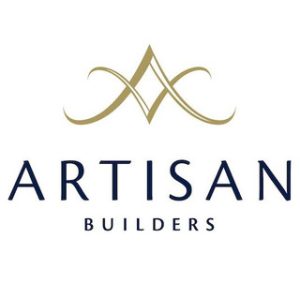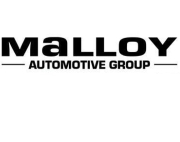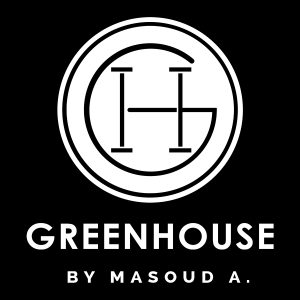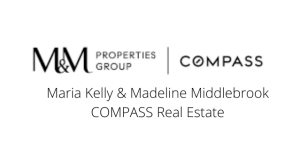 Donna & Bruce Berlage
Pamela & David Danner
Victoria & Lonnie Davis
Bill & Janet DuBose
Drs. Nadia Eltaki & Ziad Ali
Robert & Katrina Emery
Elaine & Howard Forman
Drs. Fizzah & Tim Gocke
Jane & Brant Imperatore
Malloy Auto Group
Chelsea & Harish R. Rao
Scott & Dawn Schnnell
Sonu & JJ Singh
Lori Jenkins & George Swygert
Julie Lansaw Warin & F. Joseph Warin
Major Benefactors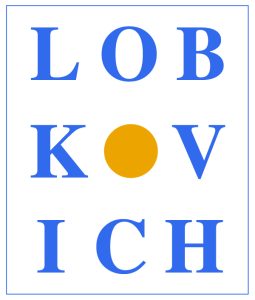 Sherif & Ali Group – COMPASS
The Sherrie T. & Sidney M. Beckstead Trust
Marcia Myers Carlucci
Sophia Lynn & David Frederick
Arezu & Ed Ingle
Robby & Katy Moser
Michelle & Chris Olson
Kim Franklin Trundle
Dawn Washkewicz & Scott Knott
Suzanne & Glenn Youngkin
Patrons

     
Richard & Kitty Dana
Betsy & Bob Huffman
Ricki & Joel Kanter
Merrill Lynch, Kristen & Peter Ambrose
Merrill Lynch Wealth Management, Pamela Wise & Mike Teague
Cynthia and Jerry Miller
Mrs. & Mr. Brian O'Toole
Katharine & Dale Powell
Brittany Root & Kevin Yam
Karen & David Sherwood
Jessica & Peter Speros
Priscilla & Scott Stanzel
Patricia Tetro & Jack Wilbern
Lori & Ken Wiseman
Sponsors


Christine Simmon & Douglas Boothe
Ellie & Brian Christiansen
Nina & Peter Fitzgerald
Georgetown Cupcake
Ann & Jeff Goettman
Jen & Chris Graham
The Haber Mandel Family Foundation
Jon & Allison Kling
The Knise Family Fund
Eric & Susanne Larsen
Leslie Mason & Jeff Cosby
McLean Foot & Ankle
Donna & Buzz Miller
Patron Tequilla
Deborah Staats Sanders
Carla & Craig Seebald
Mary Carolyn Thies
The Townend Family
Natalie von Seelen