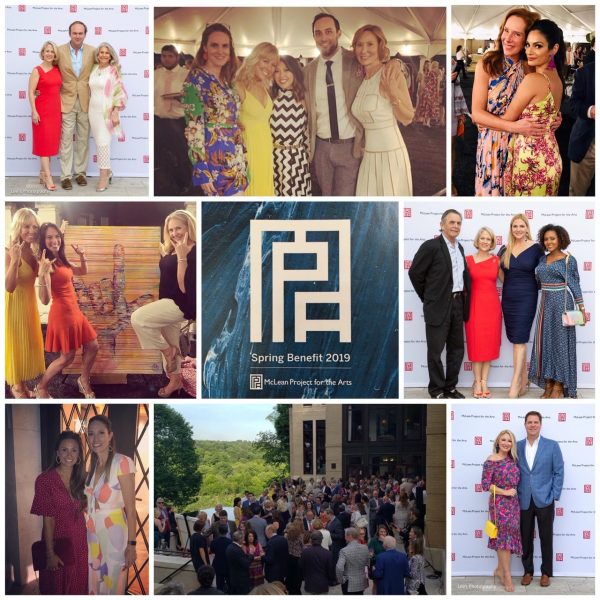 Thank you to all who joined us for our 2019 MPA
Spring

Benefit

! It was a spectacular evening!
Your generosity raised important funds that will help us expand the scope of our ArtReach education programming, reaching more Title I students in Fairfax County Public Schools, more at-risk children served by critical afterschool programs, more young adults with differing abilities, and more low-income seniors in our community.
On behalf of all of us at MPA, our warmest thanks for your truly outstanding generosity and support! Together, we're making a difference in our community.
For any questions or inquiries about Spring Benefit or other MPA events, please contact Jennifer Wormser (jwormser@mpaart.org).
Sincere thanks to all of our 2019 Spring Benefit Sponsors.*
Anonymous
Dorchester Towers & Apartments on Columbia Pike, Arlington by Lola C. Reinsch
Barbara Brown Hawthorn,
Barbara Brown Hawthorn Interiors, Ltd.
Modern Luxury DC
Washington Life Magazine
Jean Schiro-Zavela & Vance Zavela
Anonymous
Lori & Paul Carbonneau
Dabney & Joe Cortina
Kitty & Juan Pablo Gonzalez
Jae & Bobby Han, AW4B
Maggie O'Neill
Norma & Russ Ramsey
Tony Rounds
Alice & Ken Starr
Jill & Paul Young
Major Benefactors
1901 Group
Bela & Sanjeev Aggarwal
Ziad Ali DMD MD, Nadia Eltaki MD
Linda & Colin Atkins
Catherine Day & Joe Wetzel
Kelley & Doug Davenport
Janet & Bill DuBose
Karen & Dan DuVal
Friends of The Langley School
Elaine & Howard Forman
Jen & Chris Graham
Jacqueline & Alexander Henry
Jane & Brant Imperatore
Arezu & Ed Ingle
Debbie Levin Jardot & Leo Jardot
Lindsey & Mark Keatley
Bari & Keith Levingston
The Lucier & McMichael Families
Michele & Doug McCormick
The Magner & Narang Families
Gina & Chip Nash
Callie & Brad Nierenberg
Marianne Prendergast
Praful Ramineni MD, West End Plastic Surgery & the Goyal Family
Patricia Tetro & Jack Wilbern
Suzanne & Glenn Youngkin
Patrons
Sherif Abdalla & Mark McFadden
Andrita (AJ) & Chris Andreas
Cassaday and Company
Chesterbrook Residence
Diah & Greg Eaton
Tara Engel, Pernod Ricard USA
The Daniel & Ashley Fisher Family Foundation
Rachel & Ted Georgelas
Drs. Fizzah & Tim Gocke
Hilton
Lori Jenkins & George Swygert
Lobkovich Kitchen Designs
Danielle & Chris Marquez
Jillian & Jeremy Marwell
Shannon & Bob McCarter
Cynthia & Gerald Miller
Delegate Kathleen Murphy & Bill Sudow
Katharine & Dale Powell
Cary & Robert Prince
Brittany Root & Kevin Yam
Ellen Yanuck Rosenblum
Dawn & Scott Schnell
Anne & Matt Schuyler
Sushma Shenoy & Amit Saluja
Sally & John Simms
Devereux & James Socas
Silvija Strikis & Miguel Browne
TD Wealth
Miranda & Andy Vesey
Vinson Hall
Desi & Clyde Woltman
Sponsors
Nicole Backus
Sherrie & Sidney Beckstead
Betsy & Ryan Bensten
Cathy & Brian Bernasek
Bitar Cosmetic Surgery Institute
Alicia & Matt Bond
Laurie & Andy Buchanan
Shannon & Scott Burwell
Keirsten & Lael Campbell
Ellie & Brian Christiansen
Caroline & Liam Coakley
Amy & Steve Coles
Mary Cull
Ashley & Alan Dabbiere
Pamela & David Danner
Megan & Vincent Dennis
Anne DiBenedetto, COMPASS
Janet & Bill DuBose
Candace Kovacic-Fleischer & Walter Fletcher
Lesley Forde Photography
Georgetown Cupcake
Michelle & Bob Gottke
Anjali & Arun Gupta
Kennedy & Co Real Estate, Maria Kelly & Kathleen Kennedy
Amy & Allen King
Susie & John King
Susi & Eric Larsen
Diane Lewis
Elizabeth & Jan Lodal
Laura & Brendan MacCarthy
Tricia & Geoff Malloy/Malloy Auto Group
Cherylyn & Chris Mizzo
Dale Mott & Ken Hyle
Dr. Rafik Muawwad & Marsha Muawwad
Kim & Dan Overdeck
Nancy & Steve Perry
Ellen Yanuck Rosenblum
Ashleigh & Josh Sekoski
Erin Shaffer & Blair Childs
Annie Simonian Totah
Sarah & Dane Smith
The Washkewicz Family Foundation
Lori & Ken Wiseman
*Sponsor list current as of April 30, 2019