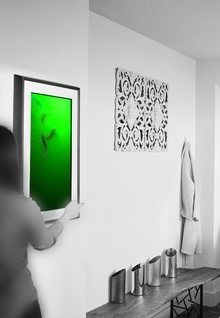 "FishLite/NiteFish" is a video production.
Lynda Andrews-Berry
FishLite/NiteFish
33″x 19″
rotoscoped and hand drawn animated digital video in lightbox
2018
$4,100
_____
Artist Statement
Lynda Andrews-Barry is a multidisciplinary artist with a practice encompassing time-based media, installations, and sculptures created from found and fabricated objects that reflect the often unseen or ignored beauty of our world.
Lynda's work has been featured in books, won numerous awards, and been shown and sold at various art venues including the National Building Museum, The National Women's Museum, as well as the Smithsonian's Renwick Gallery. Her public art projects have been installed in the District of Columbia, Maryland, Virginia, New Jersey and Florida. Recent solo exhibitions occurred in 2018 at the Rockville Civic Center at Glenview Mansion in Maryland, and in the Waddell Gallery at the Loudon Campus of Northern Virginia Community College in 2019. In 2020, Lynda received a grant to install a public art project in Arlington, Virginia. Her work will be included in the Foggy Bottom Biennial, and later in the year, she will be a resident artist at Virginia Center for Creative Arts.
Lynda received her BA in Interior Design from Mount Vernon College, and her MA in Exhibition Design from The Corcoran College of Art + Design. Her exhibition credits include the renovation of Sandy Spring Museum, and the design for a year-long installation of the Smithsonian's collection of Art Glass & Pottery in the National Museum of American History.